A unique research environment with the nation's only library dedicated to Japanese language studies
The National Institute for Japanese Language and Linguistics occupies a part of a new academic city in Tachikawa City, Tokyo. The surrounding area has a vast, open feel and contains a courthouse, the National Institute of Japanese Literature, the Institute of Statistical Mathematics, the National Institute of Polar Research, and the Local Autonomy College. The path leading from the site entrance to NINJAL welcomes visitors with rows of towering English oak trees. The facility itself has a distinctive glass-walled construction. Its five floors (four aboveground and one below) house a library, large and small lecture halls, research labs, lounge areas, and more. There are some fifty or sixty full-time researchers and staff at the Institute, and a total of around two hundred scholars (including part-timers and international members) engaged in education and research activities there.
The most dramatic feature of the National Institute for Japanese Language and Linguistics facility is its research library. The nation's only library dedicated to the study of the Japanese language, its collection includes documents and literature on Japanese language, linguistics, language education, and more. There are approximately 155,000 volumes in both Japanese and other languages, plus around 6,000 periodical titles. Hiroko Tsunakawa, a member of the Research Support Group in the Research Promotion Division of the Administrative Department, took us on a tour of the library. "We've got every edition of the major Japanese language dictionaries like the Kojiren and Daijirin, from the first printings to the latest versions," she explained. "The first-floor archive houses resources on different Japanese dialects, as well as language resources that are out of general circulation. This library is a treasure trove for research on our national language."
The second floor of the facility has research labs available to visiting scholars from outside the Institute, which are well-appointed with desks, computers, printers, lockers, whiteboards, kitchen areas, and more. "The Research Support Group that I belong to is the administrative point of contact for our researchers visiting from overseas," said Tsunakawa. "We do whatever we can to help them out if they experience problems while they're here."
Tsunakawa went on to say that all of the instructors at NINJAL took responsibility for receiving researchers from overseas. "They're each assigned an individual instructor to take care of when they arrive, but if an overseas scholar gives a research presentation at the Institute, for example, instructors will come from the entire organization to offer their knowledge and advice from a variety of perspectives," she said. "If questions come up in the course of their research, any instructor here is happy to answer them or introduce the guest researcher to someone in a different field. So it's not just the assigned instructor that receives our overseas guests. Everyone here works together." Kumiko Tansho, the director of the Administrative Division's Research Promotion Department, reinforced this idea. "We typically use smaller venues for research presentations, which makes everyone feel more at home," she explained. "The presenter and the audience are physically close, which I think makes it easier to ask questions and supports more meaningful interaction."
She went on to emphasize the convenience of the facility. "We're about an hour by train from the heart of Tokyo, so the location is actually quite convenient. By bus it's only about 70 minutes from Tachikawa Station to Haneda Airport, and just a little over two hours to Narita. Many of the researchers who come here for academic conferences—whether from other parts of Japan or overseas—use the buses for easy airport access."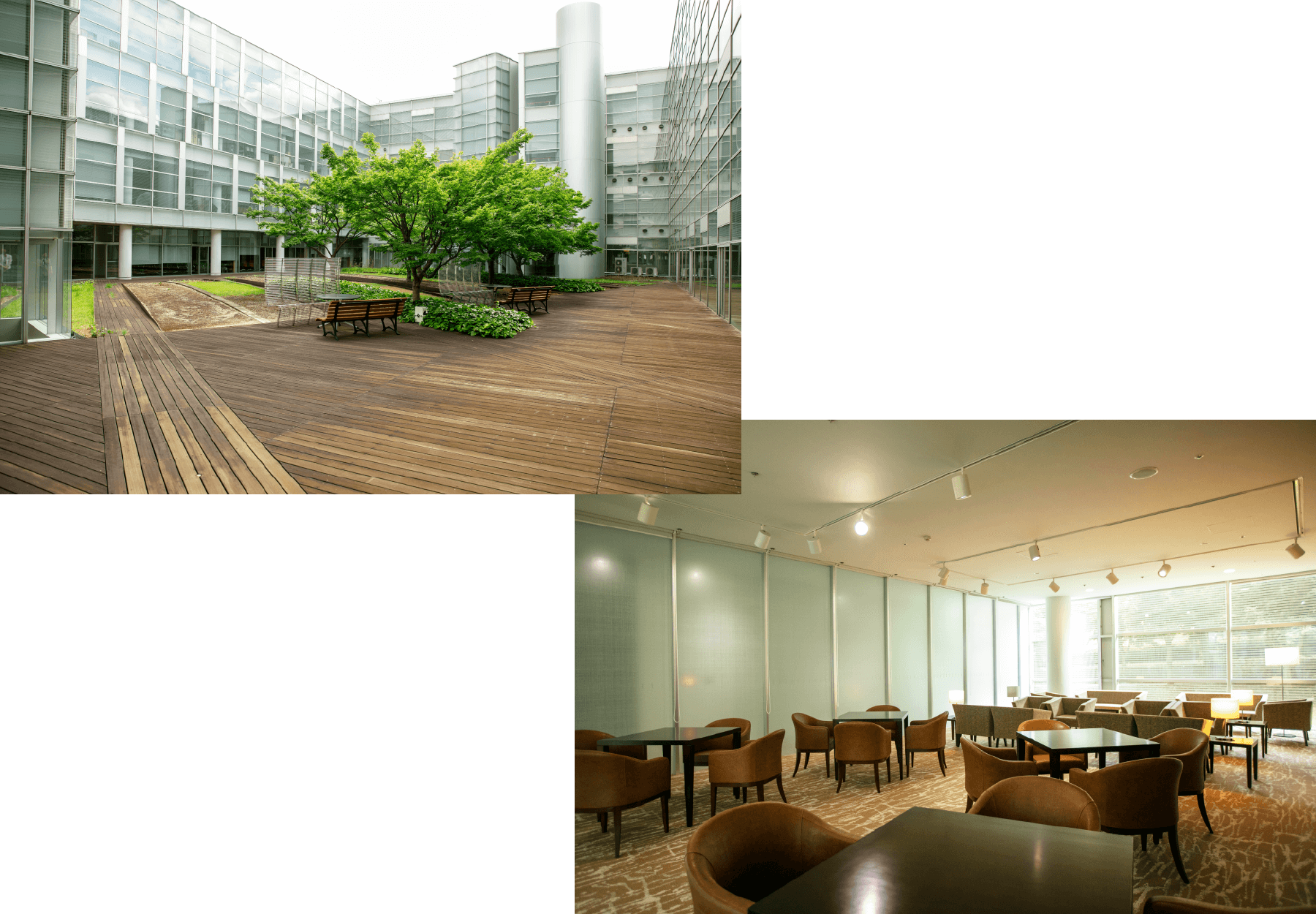 Dedicated to providing corpora for the benefit of Japanese language researchers and scholars
There are five major areas of research at the National Institute for Japanese Language and Linguistics: spoken language, theory and typology, Japanese as a second language, language variation, and language change. The Institute receives numerous overseas researchers and conducts joint research in each of these areas.
Wakako Kashino is an associate professor in the Spoken Language Division, and is in charge of receiving Hakuho Japanese Research Fellowship invitees. She told us about her experiences with the program. "We brought in some Vietnamese researchers in 2016 to study sentence structures in academic writing—more specifically, word choice and syntax driven by the cultural characteristics of the Vietnamese. As Japanese language education becomes increasingly widespread in Vietnam, more people are writing papers in Japanese for university departments and graduate school master's programs. However, these student papers frequently mix in expressions from spoken Japanese, which often makes their writing sound either self-important or immature. These researchers were analyzing those mistakes and coming up with ways to address them. The invitees have since returned to Vietnam, but they're still doing joint research with us."
The key to research like this is corpora.
NINJAL is dedicated to developing language resources called corpora. This involves systematically collecting language documents, breaking them down to the word level to assign information tags (such as parts of speech), and then creating databases so that illustrative examples are available for each word. One such corpus, the Balanced Corpus of Contemporary Written Japanese, contains a random sampling of words from books and documents in the NINJAL library collection, as well as newspapers, whitepapers, websites, and more to create a valuable resource for contemporary Japanese language research that has been both analyzed and compiled in a balanced way.
Associate Professor Kashino gave us some examples. "Take the two Japanese adverbs ichiban and hijou-ni. Ichiban comes from Chinese and has a hard-edged feel to it, but it's actually used quite a bit in spoken Japanese expressions like ichiban ii and ichiban tanoshii. One of the great features of the corpus is that it allows us to actually confirm this. The source of every word is also identified in the NINJAL corpora. This tells us, for example, that conjunctions like nanode or dakara are frequently used in magazines but rarely work in academic papers or whitepapers."
NINJAL has several other corpora in addition to the Balanced Corpus of Contemporary Written Japanese, among them the Corpus of Spontaneous Japanese and the International Corpus of Japanese as a Second Language. The ones that are publicly available can be accessed by anyone who goes through the necessary procedures. There are some tricks to using them, however, which Associate Professor Kashino said that people can pickup when they come to the Institute.
"Once our overseas scholars get the hang of using the corpora, they can keep utilizing them after they leave Japan," she said. "Instructors can use them not only for teaching and research, but can also show their students back home how to use them, which allows them to pull up example usages on their own and choose the right expressions for their written papers. Almost all of our resources can now be accessed from overseas via our network, so we really want as many researchers and scholars as possible to take advantage of them."
"We want people to be happy that they did their research here."
Associate Professor Kashino also discussed the many benefits that await overseas researchers who come to do their work at the National Institute for Japanese Language and Linguistics.
"In papers written by Vietnamese students, for example, they'll often use the verb shoukai suru (to introduce) in places where a native Japanese speaker would use noberu (to state) or shimesu (to show). As in "introducing" the results of a study. The reason they do this is that shoukai suru is a direct translation of the word they would use in Vietnamese. So it's clear that they need to be taught not only to avoid mixing spoken Japanese in with written Japanese expressions in their papers, but also to avoid common pitfalls. On a basic level this stimulates interest in linguistic differences, but it also provides practical strategies on how to present information in the future. I think there are considerable advantages to studying the contrasts between Japanese and other languages."
We ended by asking Research Promotion Group members Associate Professor Kashino and Hiroko Tsunakawa if they had anything they'd like to communicate to fellowship applicants. "If you come here, you'll have access to a program where every single member will welcome you with open arms," Tsunakawa said. "We want you to take in everything you can from the unique resources we have available and use it to propel your own research forward. We'll do everything we can to ensure that once you go back, you'll be happy that you did your research at the National Institute for Japanese Language and Linguistics"
We're now in the process of developing several corpora at the Institute," Associate Professor Kashino said. "If there are any overseas researchers who are interested in building a corpus in their own country, we urge them to come experience the process here firsthand. I think that being able to experience all of the hurdles that need to be cleared in each stage of the development process—which includes data collection methods, getting disclosure permissions, ways of organizing information and assigning tags, and making information publicly available—is invaluable."
She also commented on daily life here. "Tachikawa City, where NINJAL is located, is a bit of a distance from central Tokyo, but there are plenty of department stores and shopping centers here. There's also a lot of greenery here and a large national park nearby, so it's a nice area to live in. You'll of course come for the research, but we hope you'll enjoy the many other aspects of your daily life in Japan as well."