Teaching the World's Languages, Cultures, and Societies 
The Tokyo University of Foreign Studies is Japan's only national foreign language university engaged in researching and teaching languages from around the world. It is the progenitor of independent foreign language institutions in Japan, being the successor of the Tokyo University of Foreign Languages, which emerged from the foreign language curriculum of Governmental Kaisei Academy (the present-day University of Tokyo) in 1873. Its immediate predecessor was the Foreign Language School of Tokyo Commercial College (the present-day Hitotsubashi University), founded in 1897. The Tokyo University of Foreign Studies was founded two years later, in 1899.
"Being the only foreign language college at the national level, our greatest strength is having specialized education programs for 27 languages from 14 regions around the world. Although the number of students in each program is small, we are able to teach languages that are not widely taught elsewhere such as Indonesian, Khmer, Lao and Arabic," says Megumi Sakamoto, director of the International Center for Japanese Studies and a specialist in Japanese linguistics and pedagogy. Having attained strong competency in these languages and combining them with English and other languages, undergraduates proceed into various specialized fields such as history, economics, literature, anthropology, and international relations. Japanese is among the available majors, so Japanese and foreign students are both able to learn Japanese as a foreign language.
"We currently have over 600 students from 79 countries and 1 region taking classes on campus. Besides our undergraduate departments, we also have the Japanese Language Center for International Students of the Tokyo University of Foreign Studies, the largest institution of Japanese language learning in the country. We accept various students from overseas, including scholarship students planning to enter Japan's national universities, international students from affiliated universities, students receiving national scholarships for Japanese language and culture training, and international students in teacher training."
International students who receive such national scholarships, with no prior knowledge of the Japanese language, are able to understand university courses after a single program of less than one year, and become capable of making short essays and speeches.
In 2019, a department of global Japanese studies will be set up. Classes will be conducted in both English and Japanese, and students will learn about all aspects of Japan while improving their functional language skills.
With three kinds of cafeterias and stalls, the campus hall encourages interaction among students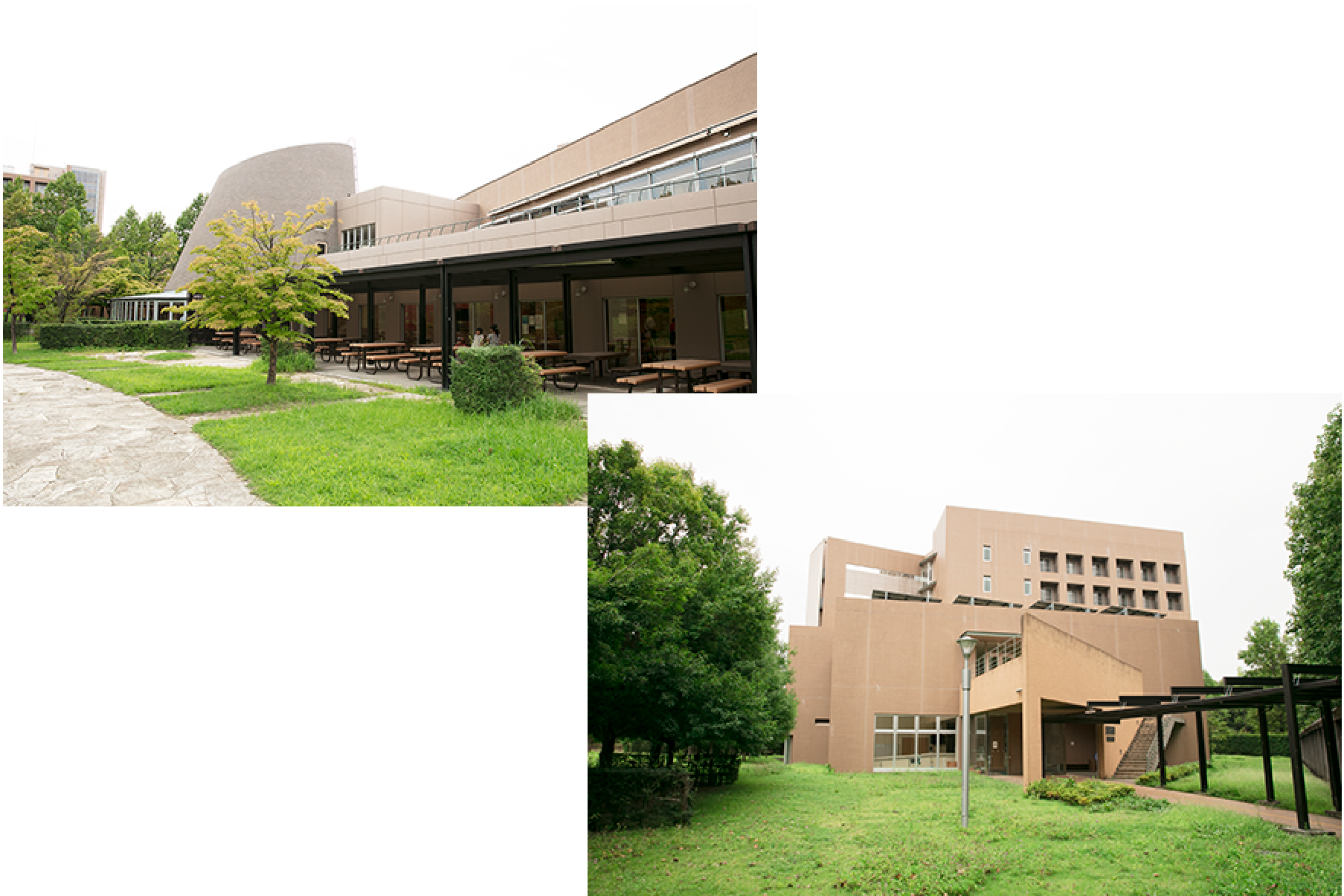 The Japanese Language Center for International Students, the largest institution of Japanese language learning in the country. Various international students come here to study Japanese.
A Global Campus Becomes a Miniature International Society
The campus of the Tokyo University of Foreign Studies, where international students from 79 nations and 1 region come to study, is like an international society in miniature. As international students and Japanese students take classes and express themselves together, they discover differences and similarities in their thinking, and share experiences that deepen their respect for each other's cultures.
One of the strengths of the Tokyo University of Foreign Studies is its affiliation through foreign exchange programs with 116 universities from 50 nations and regions throughout the world. To improve their language abilities, roughly half of all students spend one year abroad.
"Foreign exchange could mean that when a student studying Thai goes abroad to Thailand, another student will come here from Thailand to study Japanese. For the student studying in Japan, it offers a good opportunity to experience cross-cultural communication. I am currently teaching global Japanese studies at the graduate level as well as at the Japanese Language Center for International Students, but it's not rare for all 10 of the students in my class to come from different countries. Every class will have a discussion with each student saying, 'my country does it this way,' 'and in my country, we do it this way,'" says Professor Sakamoto.
In international exchange groups such as the TUFS Intercultural Community, students create their own spaces for interacting with international students. From multicultural exchange sessions on Friday afternoons to international student welcome parties and Halloween and Christmas parties, the year is filled with various events. At the student festival "Gaigosai," visitors can experience the world's cultures through food, traditional arts, and plays conducted in various languages.
Promoting International Japanese Studies with Foreign and Local Researchers
In 2009, the International Center for Japanese Studies was established as a place for receiving visiting researchers, in order to conduct research into the Japanese language and its pedagogy as well as Japanese culture and society from an integrative and composite perspective, and to apply the research results back to the field of education. Since then, the center has invited the world's researchers to TUFS, promoting international Japanese studies within Japan, and building a network of research colleagues.
"A strong point of this center is that our teaching staff include specialists in fields as varied as Japanese linguistics, Japanese pedagogy, English linguistics, German philology, Indonesian linguistics, Vietnamese literature, modern Chinese literature, Turkish history, and international politics. We have an environment that facilitates comparative research between different languages and regions of the world. For example, when we had a researcher from Indonesia, he was accompanied by a teacher specializing in Indonesian, and received support in both his research and his everyday life," says Professor Sakamoto. As she indicates, the staff at the center are able to assist visiting researchers in various ways. Among them is the Administrative Specialist, stationed in the center office, who holds regular consultations for answering the questions of visiting researchers. According to Professor Sakamoto, some researchers have immediately received help with finding an apartment as soon as they have been invited.
The researchers participate in various research seminars and presentations, and if interested, may participate in classes and seminars held by either their academic advisor or by other teachers.
Professor Sakamoto recounts, "I recently had the pleasant opportunity to meet a researcher who had previously been a guest of our center. I would like to invite the researchers we host to return for seminars and workshops when they have the opportunity, and not lose touch with them. We are also looking forward to hosting new researchers."