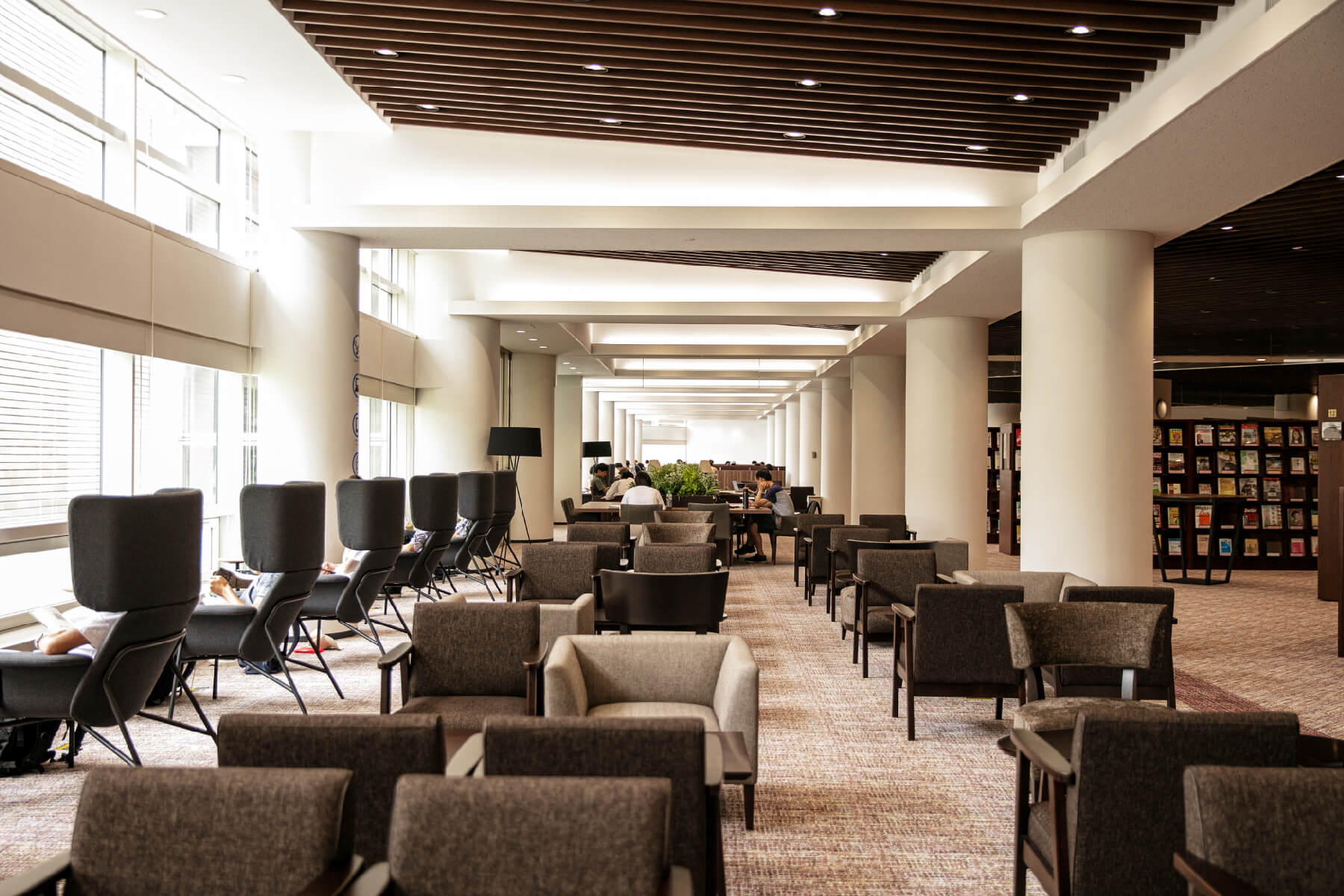 A well-equipped campus research environment includes one of Japan's best libraries
Most Fellowship recipients are hosted by The Graduate School of Applied Japanese Linguistics, or Nikken, located on the Waseda Campus or the Graduate School of Letters, Arts and Sciences, located on the nearby Toyama Campus.
The Waseda Campus that is home to Nikken is Waseda University's oldest campus and includes many facilities that reflect the unique history of Waseda University, including Okuma Auditorium and the Theatre Museum.
The Waseda Campus also has a striking modern building, the Central Library, which is located on the north side of the campus. "While every Waseda campus has a library, the Central Library is the largest. On its four above ground floors and two underground floors, this library holds approximately 2.7 million volumes. The library has 1800 seats for viewing its collections, and is one of the largest university libraries in Japan," explains Mitsunori Marutani, who is the Administrative Director of the International Office of the International Affairs Division of the Waseda University (at time of interview). The basement research library contains the library's collection of Chinese and Korean books, Meiji era books, and other valuable research materials. "Many researchers doing research at Waseda come here because of this library," says Marutani.
What's more, "the library grounds include the Okuma Garden, the private estate of Shigenobu Okuma, which was opened to the public. It has become a place where students and researchers come to relax,' says Marutani. Moreover, "Researchers also look forward to going to Kansen-en Park, a distinctive Japanese garden near the campus, in the spring to view the gorgeous cherry blossoms in bloom along the Kanda River," says Hirokazu Ishikura, the member of the International Affairs Division who is in charge of hosting overseas researchers.
The Toyama Campus is about a five minute walk from the Waseda Campus.
The grass covered Toyama Hill is at the center of the Toyama Campus, which is home to the College of Letters, Arts and Sciences. Toyama Hill is surrounded by undergraduate and graduate school buildings, the library, student association building, cafeteria, pool, and other facilities. Moreover, in 2018, Waseda Arena was completed in the space underneath Toyama Hill. Waseda Arena contains a multi-purpose athletic grounds and various sports-related facilities. "We have arranged it so that researchers also have access to the Toyama Campus pool, gym, and other exercise facilities. In fact, many researchers want to use these facilities and take advantage of them," says Marutani.
Additionally, a spacious access terrace connecting the lawn plaza with surrounding buildings provides an environment for focusing on research in relaxed outdoor surroundings.
Waseda Campus Tsubouchi Memorial Theatre Museum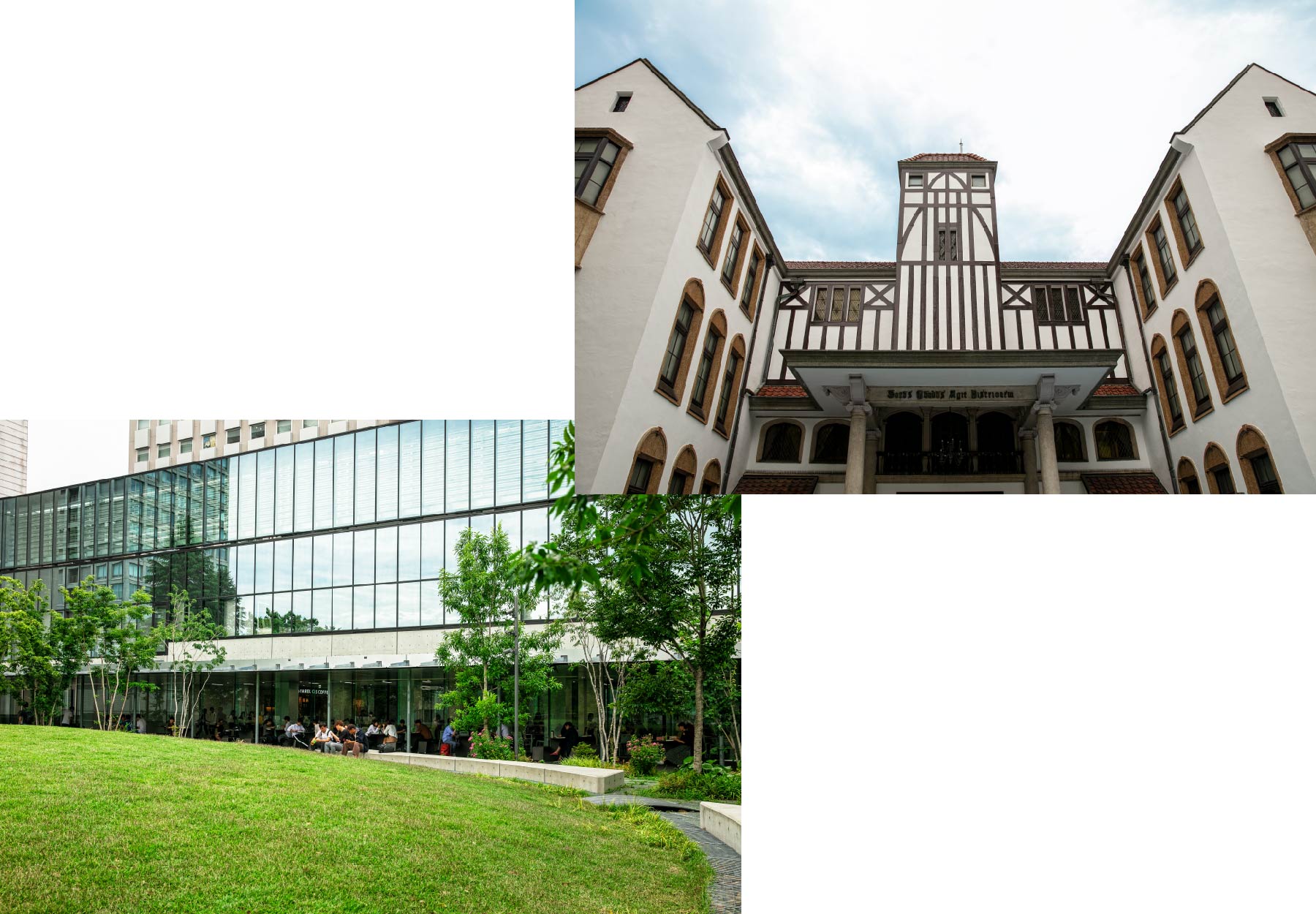 Toyama Hill on the Toyama Campus
Research rooms with internet access and variety of guest house configurations
What is the research environment and daily life like for foreign researchers at Waseda University?
Marutani, Ishikura, and the staff at the Waseda University International Office of the International Division are in charge of planning the system for hosting foreign exchange students and researchers and providing the support they need. "We provide 33 research rooms so that researchers coming to Japan can fully devote themselves to research at the university. These include both private and shared rooms that researchers can make use of in accordance to preference and availability. Needless to say, the research rooms have internet access as well as printers," says Marutani. On-campus food takes into account religious preferences, including a menu for those on a halal diet.
"As living accommodations for overseas teachers and researchers, the university provides dormitories and guest houses. There are five guest houses with a total of 114 rooms within walking distance of the Waseda Campus. Since overseas researchers include both those coming to Japan alone and those coming with their families, we have prepared a variety of room configurations to meet each of their needs," says Marutani.
Moreover, "every guest house is furnished. Rooms have Wi-Fi, eating and cooking utensils, linen, and the like, so that visitors can start their life in Japan right away. The idea is that since basic necessities for a stay of a year, or any other length, have been arranged in advance, if a researcher needs anything else, they can take care of it on their own," says Ishikura.
Additionally, "when a visa is required to come to Japan from overseas, we help prepare the documents, and can also submit documentation to immigration authorities. What's more, if the researcher's family is also coming to Japan, we provide information for the family, such as information about local nursery schools and elementary schools," says Marutani.
Thanks to this kind of research and study environment, the number of researchers and students who want to undertake research at Waseda University has increased in recent years. In the 2018 academic year, Waseda University accepted a total of 7,942 foreign exchange students and 325 researchers to give both the Waseda and Toyama Campuses a vibrant international atmosphere where foreign and Japanese students and researchers naturally intermingle.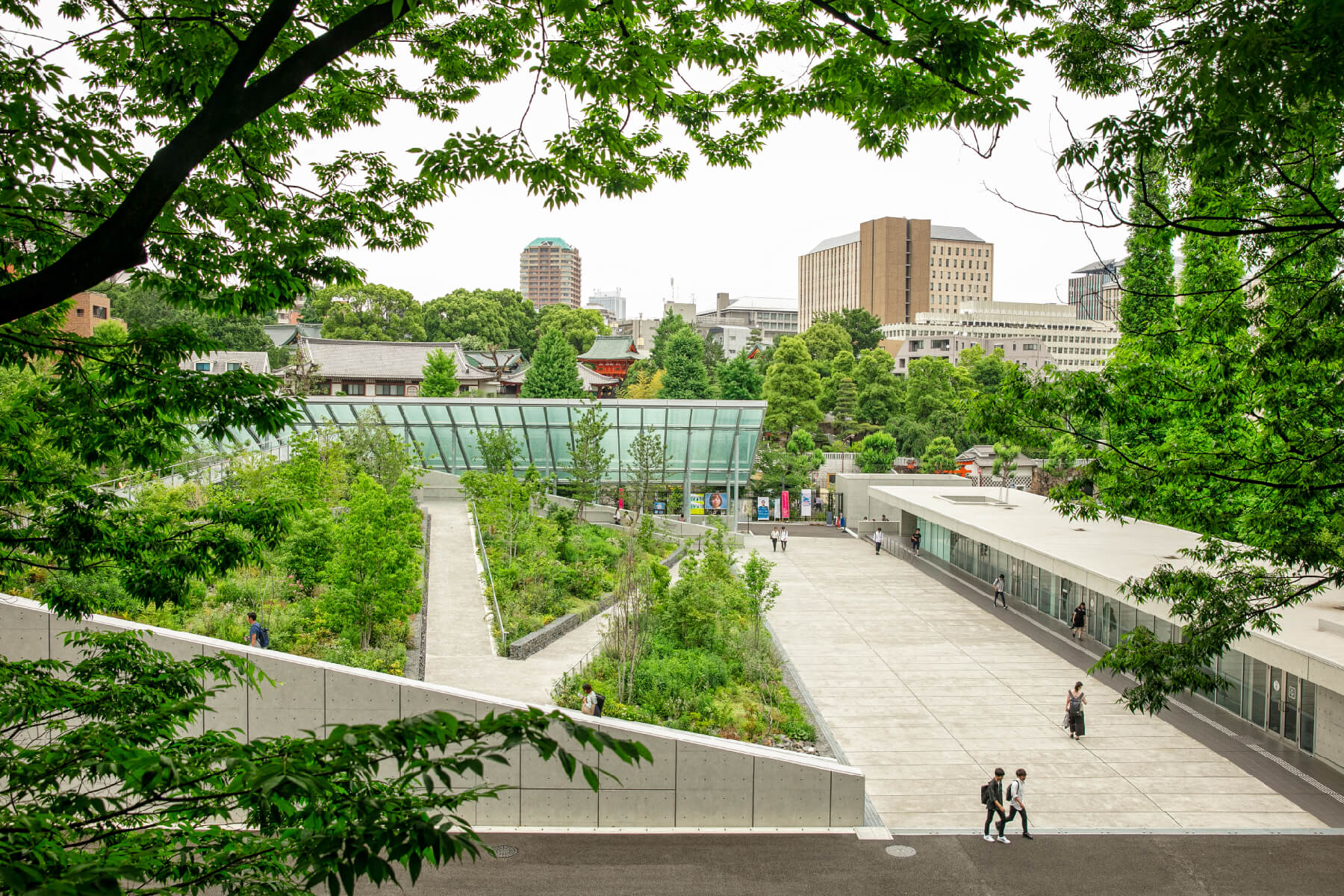 Since the very beginning, an academic culture open to the outside world focused on making the world a better place
Marutani also has this to say about what makes Waseda University unique:
"Waseda University's founding philosophy is expressed in the Waseda University Mission. The Mission rests on three main principles: Independence of Learning, Practical Utilization of Knowledge, and To Create Good Citizenship. These three main principles embody the University's creed of pursuing original scholarship, applying that scholarship to making the world better a better place, and fostering human resources that contribute to the global community. When Waseda was founded, Japan had just begun the process of modernization, so it was natural that the University's primary mission was fostering the human resources needed for modernization. However, the University remains devoted to the principles of fostering human resources and research contributing to the global community – a philosophy put in place when the University was founded. In other words, since the beginning, Waseda has opened its doors to the outside world by both accepting foreign researchers and sending researchers from Japan overseas. This international environment is still a part of the University today, a place where researchers are constantly coming and going between here and overseas.
Many foreign researchers also seem to have a deep sense of the University's unique atmosphere and culture. Many researchers have the impression that Waseda is a place that is easy to get to and is a place where it is easy to do research."
Moreover, since 2014, and with funding support from the Ministry of Education, Culture, Sports, Science and Technology, Waseda University has been moving forward on the Waseda Ocean Initiative. Waseda Ocean adds further momentum to Waseda Vision 150, including a plan to greatly increase the number of medium- and long-term researchers and dispatched researchers accepted by the university through the ten-year period ending in 2023.
"We call this the "ocean" initiative because we want people to see the global research and education network as an ocean and Waseda as a port in that ocean. In other words, we want to send people from Waseda overseas and we want many people from overseas to come to Waseda. We intend to continue our efforts to make it easier for people to move around internationally, so we hope researchers will keep that in mind and make us a part of their research activities," says Marutani.
"When an invited researcher comes to Waseda we always assign a Waseda University professor as his or her host professor. The College of Arts, Letters and Sciences and the Graduate School of Japanese Applied Linguistics have many professors whose expertise covers a wide range of disciplines. Moreover, since these professors include many who take a very wide approach that is not limited to a narrow field of specialization, we make every effort to accept researchers on terms that fit their goals. Whether it is university facilities or some other tangible aspect, or simply daily living, our system allows researchers to seek advice from us about their concerns at any time, so we very much look forward to many researchers coming to Waseda University," says Ishikura.