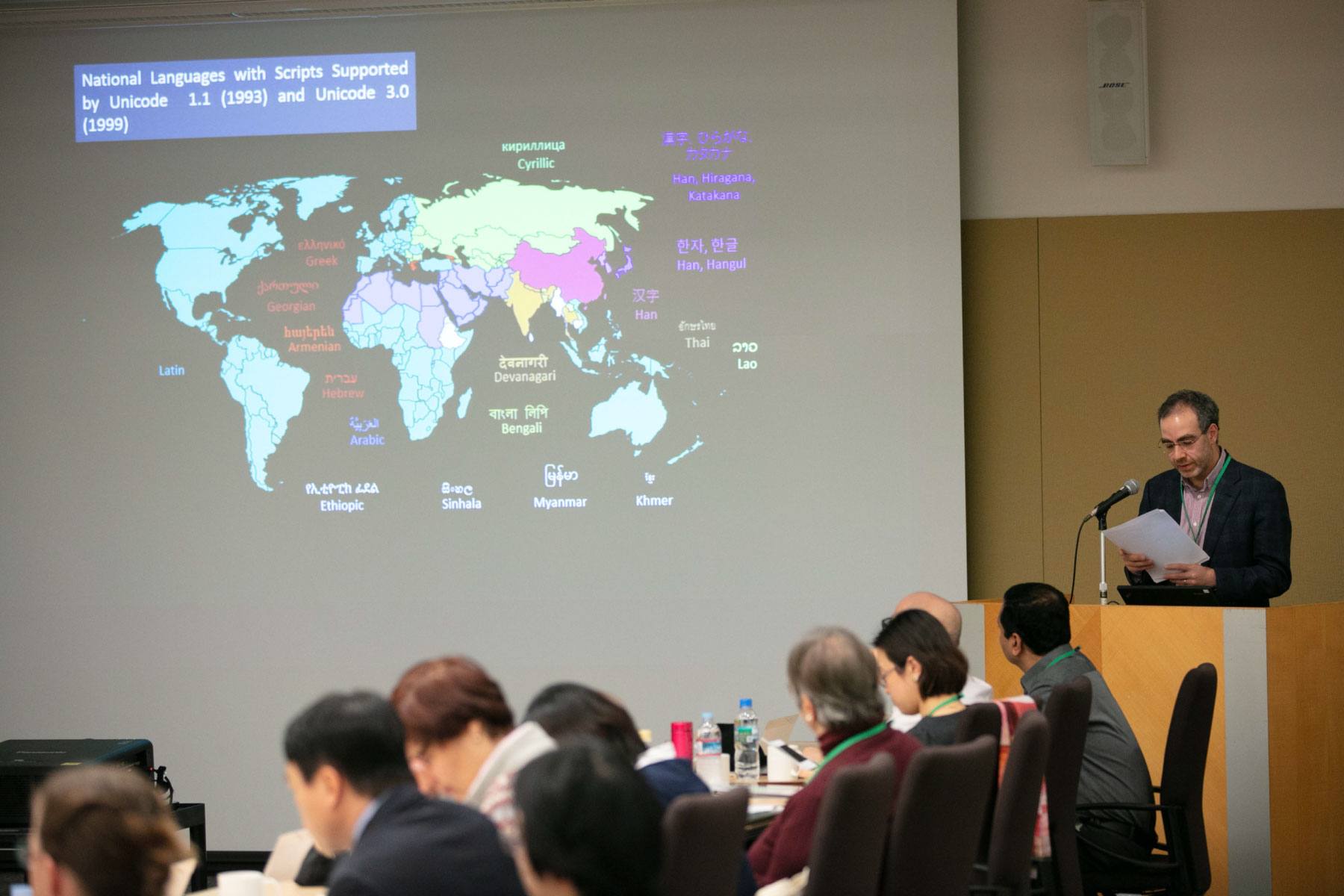 Research Reports
The long-term research fellows who made reports at this meeting included four conducting Japanese language and Japanese language education research, and eight conducting Japanese literature and Japanese culture research. In the field of Japanese language and Japanese language education research, many researchers reported practical research aimed at use in the field of education, based on the current state of Japanese language education in their home countries and the challenges they face. In the field of Japanese literature and Japanese culture research, researchers reported on a more diverse range of topics than ever before, including festivals, architecture, food culture, history, and other topics.
In the question-and-answer session, the researchers received advice and requests on parts that should be added to, points for correction, and how to expand their research, as well as questions that reconfirmed the direction of their research, such as where they will place the main axis or goal. As the remaining issues and new issues for their final reports became clear, the researchers each renewed their motivation for continuing their research.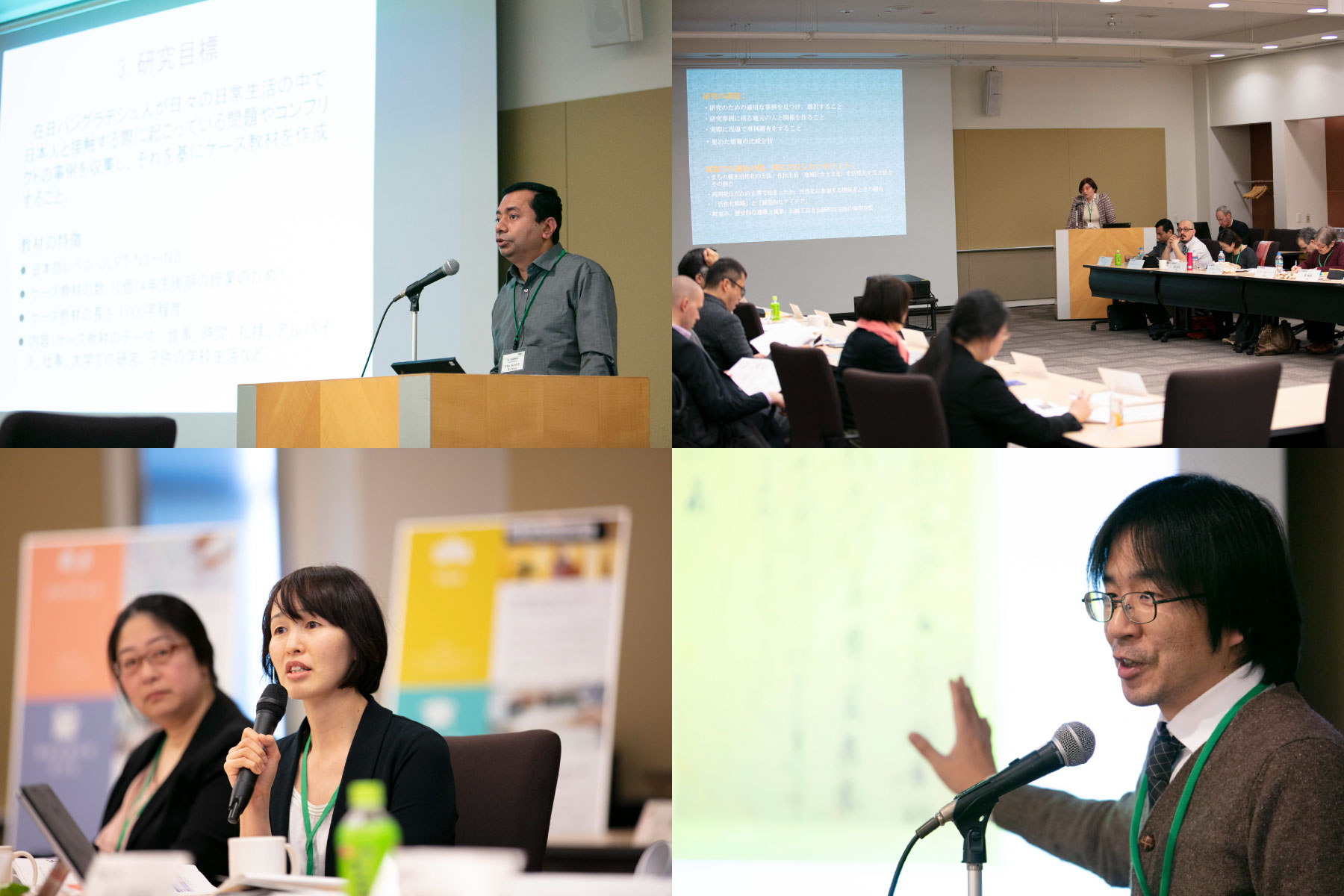 (The following names are given without titles, in the order that reports were made)
1. ALAM Mohammed Ansarul
Associate Professor, Institute of Modern Languages, University of Dhaka (Bangladesh)
"An Investigative Study on the Problems Faced by the Bangladeshi Residents in Japan – Aiming to Create Case Materials for Bangladeshi Japanese Language Learners"
2. OZBEK Aydin
Associate Professor, Head of the Department, Head of the Applied Language Research Center, Department of Japanese Language Education, Faculty of Education, Canakkale Onsekiz Mart University (Turkey)
"A Contrastive Analysis of Tense-Aspect-Evidentiality and Mirativity in Japanese and Turkish"
3. LIU Jiaqi
Associate Professor and Vice Dean of Japanese Department, College of Foreign Languages and Literature, Fudan University (China)
"A Study on the Acquisition of Japanese Pronunciation by Chinese Speaking Learners: Focus on the Relationship of Perception and Production"
4. ADAL Raja
Assistant Professor of Japanese History, Department of History, University of Pittsburgh (USA)
"Asia in the Century of the Typewriter: Authority, Aesthetics, and the Mechanization of Writing"
5. KELIYAN Maya Bedros
Professor, Institute for the Study of Societies and Knowledge, Bulgarian Academy of Sciences (Bulgaria)
"Local Communities' Religious Festivals in Japan and Bulgaria: Comparative Study"
6. LO Hsiao Chin
Associate Professor, Applied Japanese Department, Ming Chuan University (Taiwan)
"Using the Case Method to Teach Business Students Japanese as a Foreign Language: Using Case Studies as Teaching Material"
7. SHEVTSOVA Galyna
Professor, Chair of Architecture Basis and Design, Faculty of Architecture, Architecture Basis and Design Kiev National University of Construction and Architecture (Ukraine)
"Japanese Experience of Small Historical Towns' Revitalization: Perspectives for Application in Ukraine"
8. DO Kee Hong
Part-time Lecturer, Hannam University (Korea)
"A Basic Study on Saji in Food Culture of the Muromachi Period – Focusing on Records of Yushoku Kojitsu and Dishes"
9. TANG Quan
Associate Professor, Japanese Department School of Foreign Languages, East China Normal University (China)
"A Study on Exchanges between Chinese Literati and Japanese Scholars in Tokugawa Japan: The Birth and Development of a Human Network, 1804–1832"
10. YAMAMOTO Naoki
Assistant Professor, Department of Film and Media Studies, University of California, Santa Barbara (USA)
"The Kyoto School of Philosophy and Its Enduring Impact on the Formation of Japanese Media Theory"
11. BRIGHTWELL Erin Leigh
Assistant Professor of Pre-modern Japanese Literature, Department of Asian Languages and Cultures, University of Michigan (USA)
"Divine Right and the End of Days: Ordering the Past in Japan's Long 13th Century"
12. LI Ming Jing
Professor, School of Foreign Languages, Renmin University of China (China)
"A Study on the Interrelationships between Japanese Buddhist Literature and Chinese Literature of the Tang and Song Dynasties"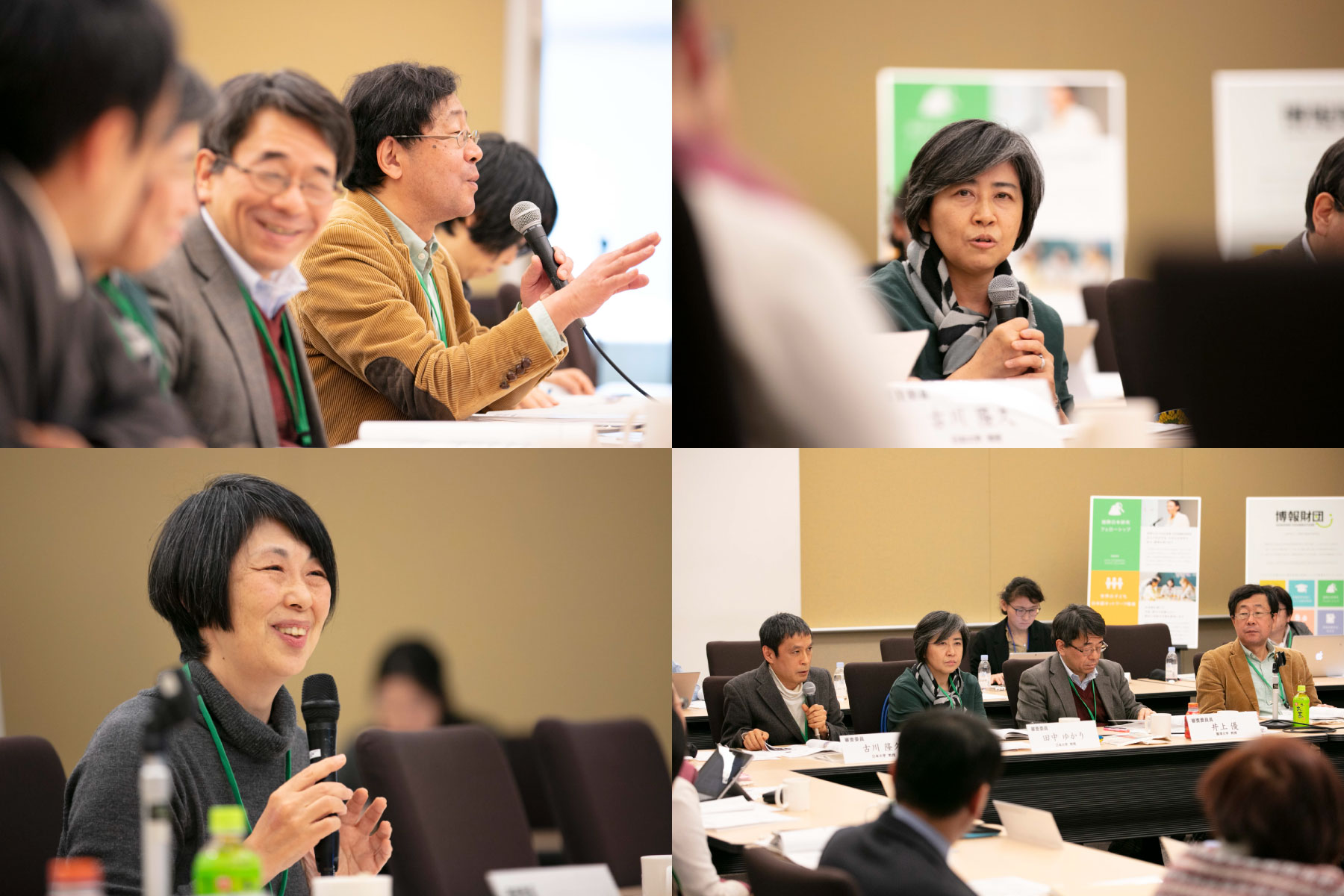 Comments by the Evaluation Committee
After the research reports by the research fellows, they received comments from each of the five members of the Evaluation Committee.
At the outset, Chairman Masaru Inoue gave specific recommendations and advice on delivering a research report in just 15 minutes. "At meetings where researchers from various fields come together, it is necessary to explain content that is meaningful to experts in a way that can be understood by non-specialists. This is difficult to do, but it also helps in grasping the essence of your own research overall. First extract the essence, the core of your research, in the first minute. Then use the following 14 minutes to supplement this, and you will make the best use of your time."
Other Evaluation Committee members also offered their feedback. "I realized that the field of Japanese language education has become more specific and more practical." "I felt tested in terms of what kind of comments I should give, as the research reports covered a very wide range of fields." "There were some tough opinions, but that showed how the Evaluation Committee members were deeply interested, and are looking forward to future results."
The feedback conveyed the strong expectations of the Evaluation Committee, who hope that the researchers will make use of their experience at this report meeting to deliver better reports at the final report meeting six months from now.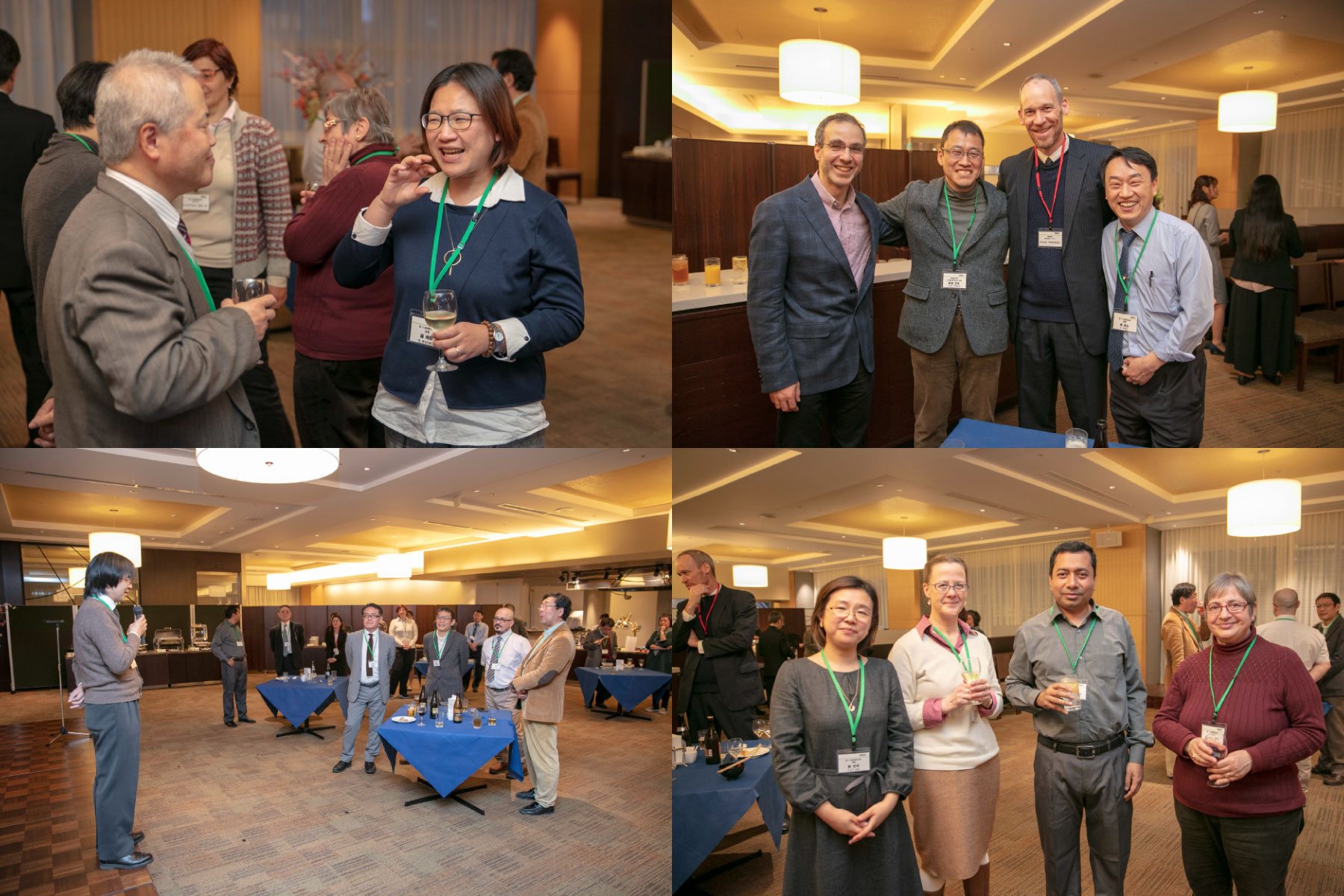 Research Recognition and Exchange Party
After the report meeting, the participants moved to another venue for a social gathering. At the social gathering, the research fellows received advice from Committee members and professors of receiving organizations who shared their opinions in the question-and-answer session. Researchers also exchanged ideas about their research with each other, and enjoyed a good time.
The following are comments from researchers who have finished their reports.
"I have been very busy, focused on fieldwork for the past six months since coming to Japan, so this research report meeting was an excellent chance to look back on my own research. I received comments from Evaluation Committee members, which were very information for how to advance my research. I still have many research materials to organize, so I will use my remaining time effectively to advance my research." (Professor Tang)
"At this meeting, I heard perspectives on education regarding the preservation of historical buildings, so I would like to present my final report with awareness of that perspective. I like being asked questions, so I hope to receive many more questions (at the final report meeting). At this meeting, I heard that research by another research fellow had uncovered old materials that had been unknown until now. I have also had the experience of finding such materials in my home country, so I fondly recalled that experience and felt envious." (Professor Shevtsova)
"In my research report today, my theme was too broad, so there were some things I could not effectively convey regarding my overall vision for classes. It was nice to be able to explain those parts by answering questions from the Evaluation Committee members. In my current research in Japan, I have been able to participate in case method teaching seminars at Keio University, and with specific methods for conducting classes, I feel that I am finding a way to make them my own." (Professor Lo)
"I do not have many opportunities to present my research in Japanese, so I found the preparation to be difficult, but I learned a lot from the responses from the audience. The opinions of professors from receiving organizations and the Evaluation Committee members were also very informative. At the final report meeting in August, I hope to be able to report on materials that I am still in the process of analyzing and researching." (Professor Adal)
 "For the past six months, I have been exchanging views with various other researchers, but I was able to hear views from even more new perspectives, so I think I was able to take a slightly different approach. I took notes on all of the views I received, so I will carefully consider how to solve my issues in the future. There were some parts where my explanation was insufficient, so I would like to use the experience I had today in writing papers." (Professor Liu)