Here are the comments of the researchers who have concluded their reports.
"I found the meeting very stimulating, because I was able to learn about what kinds of research were done by other research fellows who were invited at the same time as me, and what results they obtained. I listened with great interest, not only to reports by research fellows in fields similar to mine, but also discovering new perspectives in completely different fields." (Professor Zahlten)
"I was very happy to be able to interact with the wonderful researchers specialized in Japan at this report meeting, including the examiners and the professors from the receiving organizations. I am also very grateful to the Hakuho Foundation for giving me this opportunity to focus on my research for six months, which I found to be a wonderfully enriching time." (Professor Shirane)
"I was a short-term invitee, so this was my first experience during my stay to report on my research at this kind of gathering with other research fellows. It was an excellent experience for me as a researcher. I hope to apply the opinions I received during the question-and-answer segment to my future research." (Professor Hellyer)
"I was very happy to receive opinions and advice during the question-and-answer segment after making my report. I specialize in literature, so I tend to think of everything in terms of literature, but when I listened to the presentations made by research fellows in other fields, I realized that it is important to consider historical and cultural perspectives as well." (Professor Liang)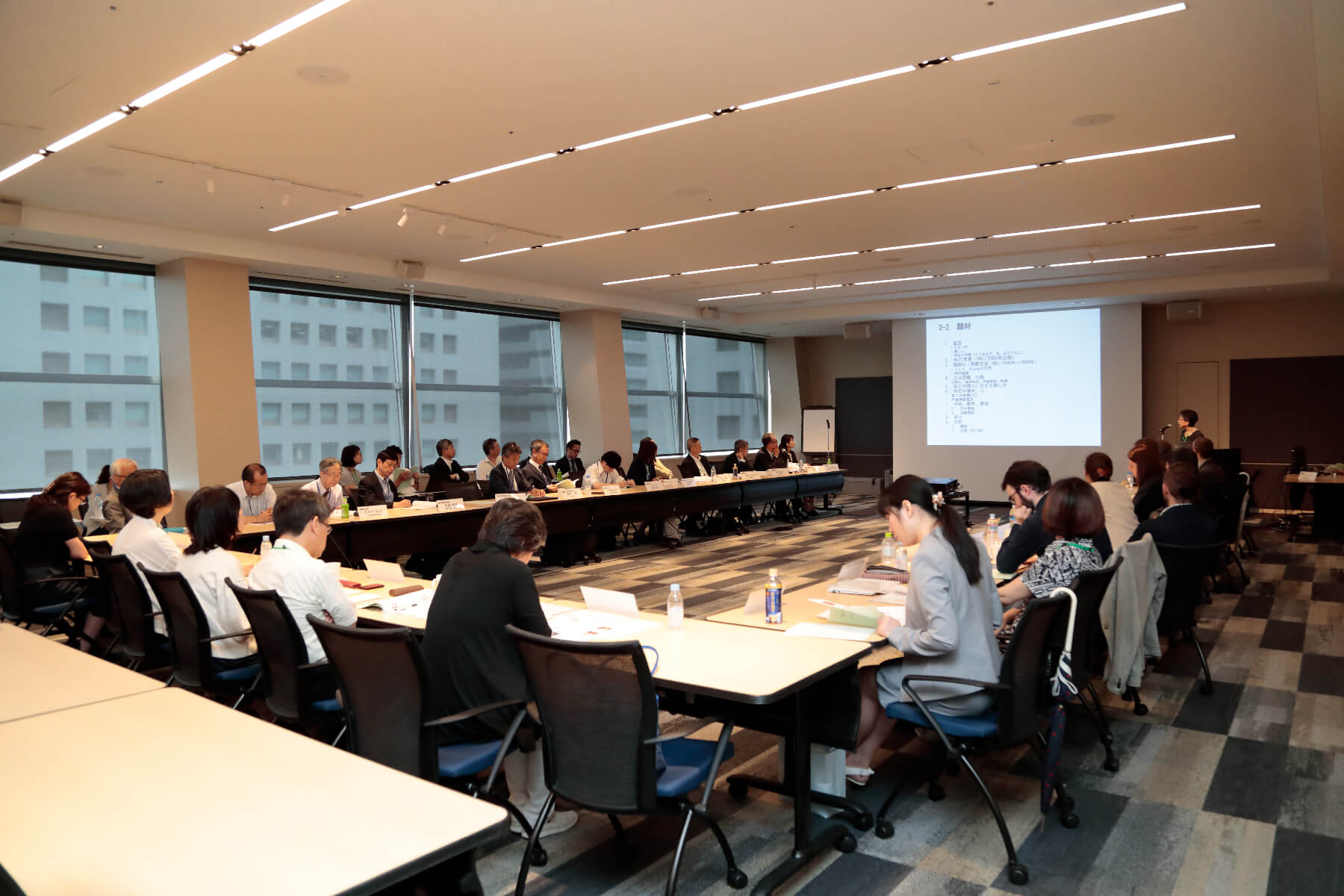 Research Reports
Each research report was 15 minutes long, followed by a five-minute comment segment for the receiving organization professors and a five-minute question-and-answer segment. This meeting featured reports from five research fellows researching the Japanese language and Japanese language instruction, and seven research fellows researching Japanese literature and Japanese culture. Six were short-term invitees for the second round, and the other six were long-term invitees.
All of the invitees made effective use of their limited time in Japan, and offered substantial reports on their enthusiastic research activities.
At this report meeting, while the research fellows made great efforts on their respective themes and achieved significant results, it seems they also discovered many new issues. In the question-and-answer segment, they received extensive advice and requests from different perspectives about how to proceed with their future research.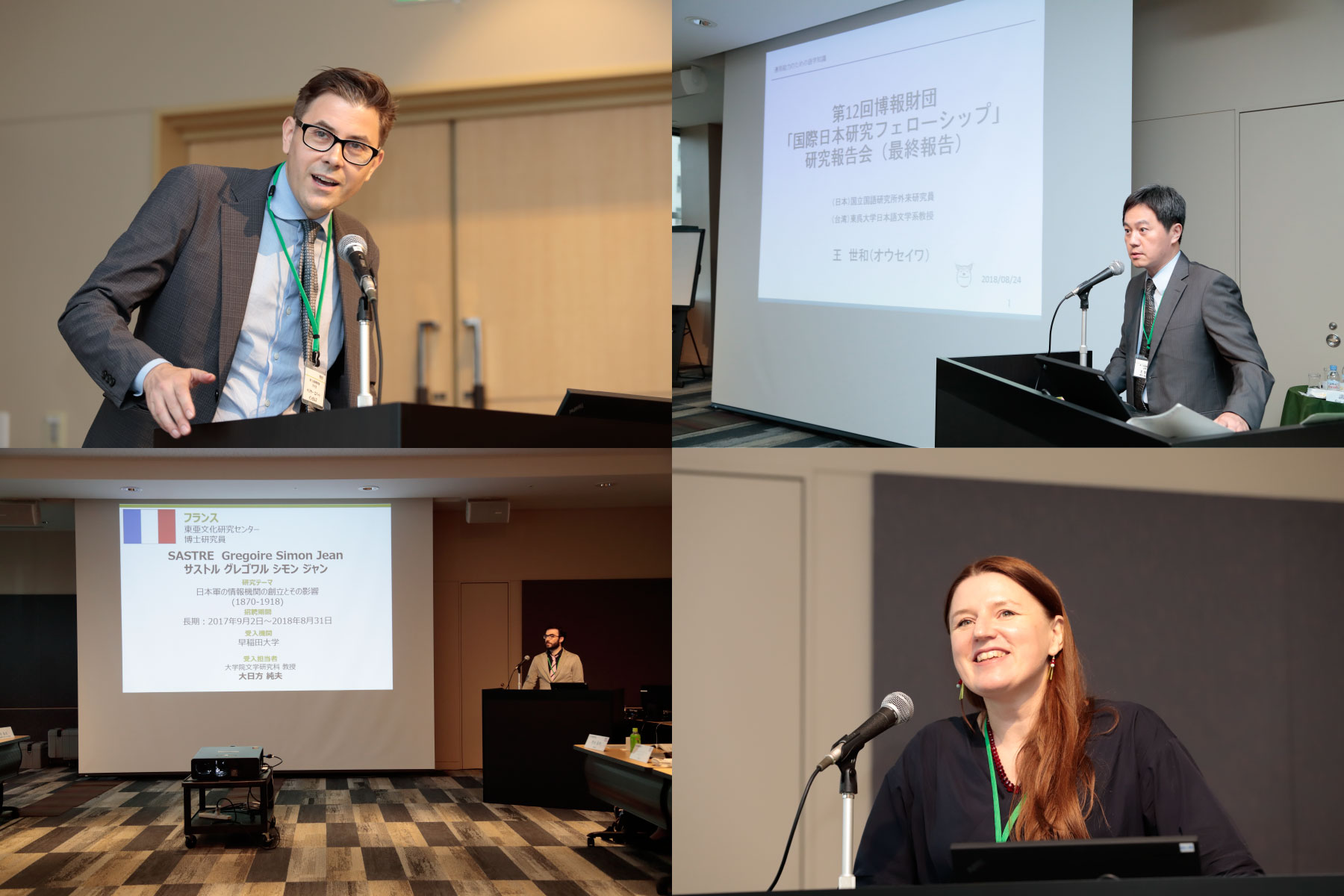 (Listed below with professional titles omitted, in order of report presentation)
1.NODA Mari 
Professor in East Asian Language Pedagogy, The Ohio State University (USA)
"What Winning Speeches Tell us about Japanese Speeches and Perspectives on Japan: A Half Century of International Speech Contest in Japanese"
2.PIZZICONI Barbara
Reader in Japanese Applied Linguistics, SOAS (School of Oriental and African Studies), University of London (UK)
"Discourses of Japanese (Im)Politeness"
3.ZAHLTEN Alexander Nikolas
Associate Professor, Department of East Asian Languages and Civilizations, Harvard University (USA)
"The History of Japan's 'Amateur' Media Culture and the Future of the Media"
4.SHIRANE Haruo
Chair, Shincho Professor of Japanese Literature and Culture, Department of East Asian Languages & Cultures, Columbia University (USA)
"Media, Performance, and Popular Culture: Decentering Japanese Literature"
5.HELLYER Robert Ingels
Associate Professor, Department of History, Wake Forest University (USA)
"A Global History of Japan's Tea Export Trade: Socio-economic Perspectives from Production to Consumption, 1850 to 1950"
6.KHOMENKO Olga
Associate Professor, Department of History, Faculty of Humanities, National University of Kyiv-Mohyla Academy (Ukraine)
"The Quest for Happiness: Women and Magazine Advertising in Post-war Japan"
7.WANG Shihho
Professor, Department of Japanese Language and Culture, Soochow University (Taiwan)
"A Study of a Context-oriented Japanese Pedagogical Grammar: Centered on the Usage of Te-iru"
8.OBERWINKLER Michaela Marianne
Research Associate, Department of Japanese Studies, Institute of Asian and Oriental Studies, University of Tuebingen (Germany)
"New Ways of Written Communication in Japan: Analyzing the Language Behavior in Social Network Services (SNS)"
9.COOK Ryan Marshall
Assistant Professor, Film and Media Studies and East Asian Studies, Emory University (USA)
"Rethinking the 1960s through Japanese Film: The Showa 30s as Image and Memory"
10.SASTRE Gregoire Simon Jean
Postdoctoral Researcher, East Asian Civilisations Research Center (France)
"The Foundation of the Japanese Military Intelligence Services and their Role in Japan's Foreign Policy (1870–1918)"
11.HONG Seunyoung
Research Professor, Institute of Japanese Studies, Hallym University (Korea)
"A Comparative Study of the Form of Theaters in Korea and Japan in the 1910s"
12. LIANG Qing
Lecturer, The College of Foreign Languages and Cultures, Xiamen University (China)
"The Japanization of kanshi of the Early Heian Period: Focusing on SHIMADA Tadaomi and SUGAWARA Michizane"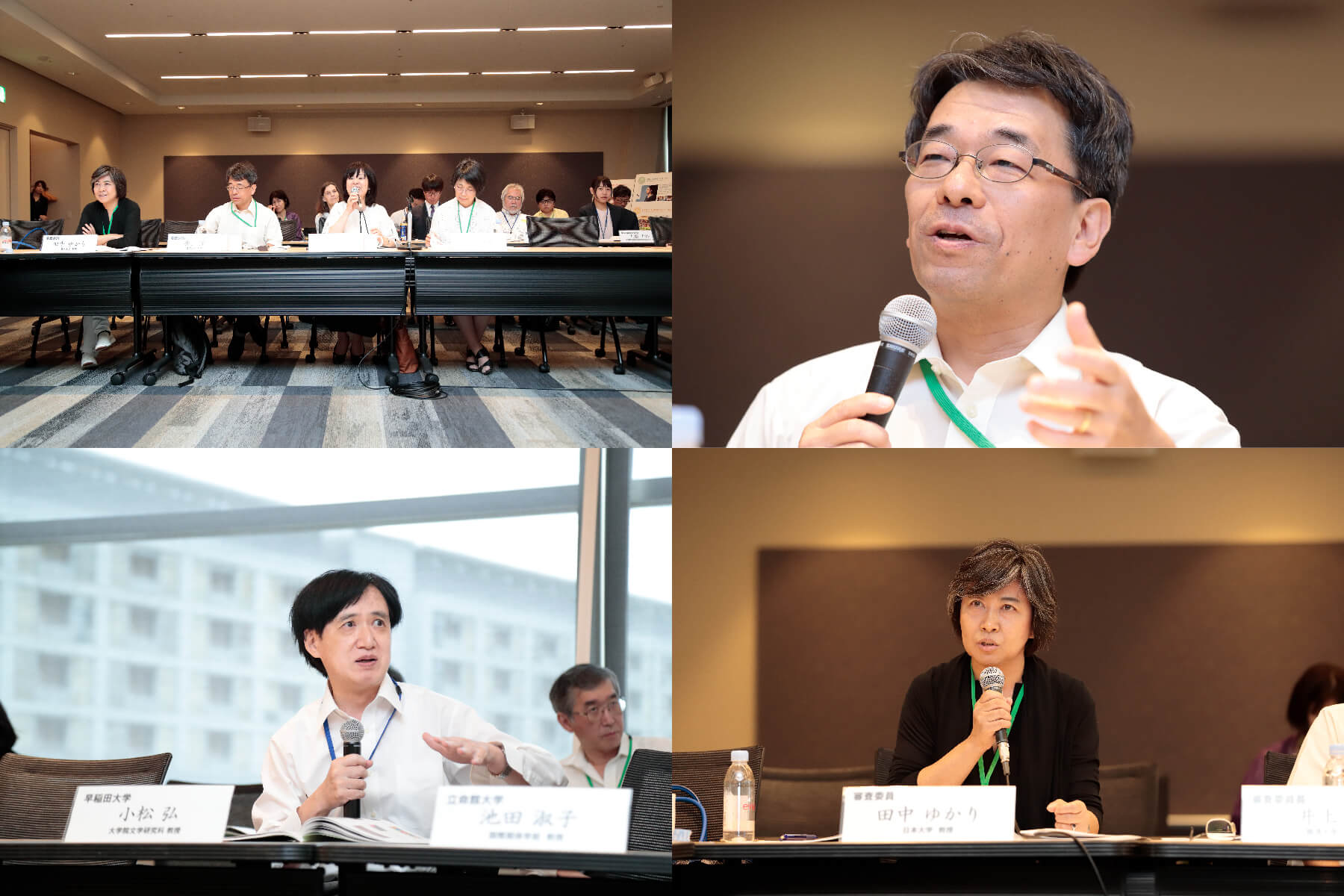 Comments from the Evaluation Committee 
After the reports by the invitees, Committee Chairman Masaru Inoue offered his comments.
"While you only had 15 minutes to report your results, I think you all demonstrated your skills as researchers by concisely explaining your research results. Finding information is just the first step of research. I was glad to hear you speak about how you got closer to the core of your research in the second stage, where you discover what kind of meaning that information has for you, use this as the basis for your analysis, and discuss what you learned from the results." This was the gist of his comments. We hope that all the research fellows can apply this experience in their future research.
There were a number of comments from other Committee members. "It was very meaningful to have an exchange of opinions during the question-and-answer segments, with questions not only from the judging panels, but also from the receiving organization professors and invitees." "Comments by the receiving organization professors helped to provide a clear sense of the significance of the research in each field." "Professors specialized in different fields were present, so we were able to get appropriate advice even from fields that were not covered by the judging panels." On the other hand, future challenges were also mentioned. "Long-term invitees need to avoid duplication of material from their interim reports, and make it easy to see the progress that has been made since their interim reports." "You should clearly indicate information obtained through research and your own opinions."
The reports of results, research content, and question-and-answer segments had all improved in quality, and this meeting made it possible to truly experience how the Hakuho Foundation's Japanese Research Fellowship system has steadily grown.
Research Recognition and Exchange Party  
After the report meeting, a research recognition and exchange party was held at a separate venue. The researchers enjoyed an unreserved exchange of opinions and information about their research, together with the judging panels, receiving organization professors, and liaisons. The attendees joined in singing a tea-picking song mentioned during Professor Hellyer's presentation, and the event had a cheerful atmosphere from beginning to end.