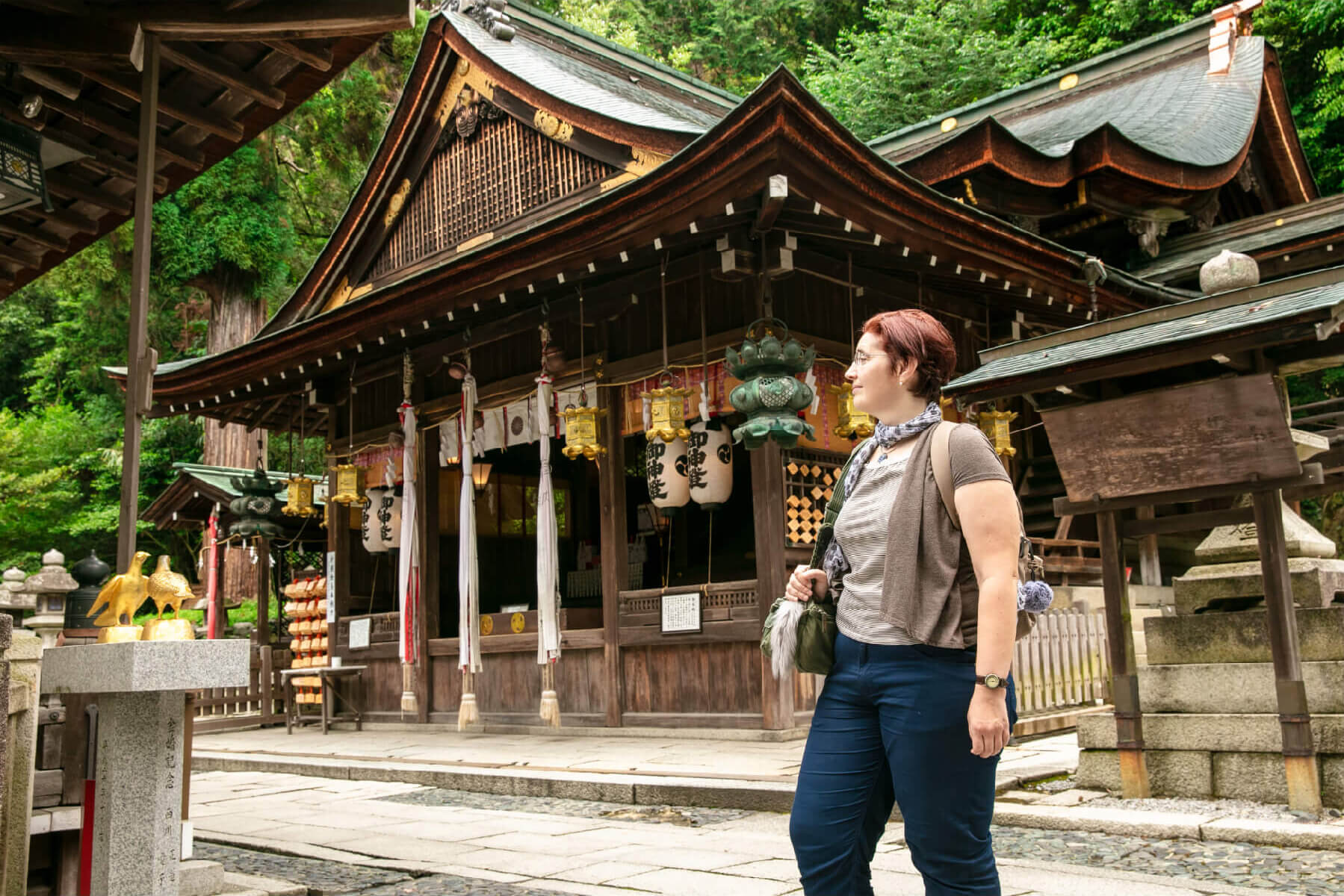 Wooden architecture in Ukraine and Japan are intriguingly similar.
What led you to embark on this fellowship?
Originally, I majored in wooden architecture. After graduating from the faculty of architecture of a Ukrainian university, I went to study the Japanese language in Japan, and I took an interest in Japanese architecture.
Japanese architecture and wooden architecture in Ukraine are very similar in some respects. For instance, wooden churches in Ukraine and Shinto shrines in Japan are very similar in terms of the shape of the buildings and the structures that support their roofs. I found this to be very intriguing, and although my research did not reveal any contact between Japan and Ukraine in the distant past, there are similarities in the culture of these two countries that were focused on agriculture, and I think it shows in their wooden architecture.
I have stayed in Japan long-term several times since 2003, when I researched the methods of preserving and repairing architecture in Japan. During those stays I only researched architecture. I visited distinctive buildings, including Buddhist temples and Shinto shrines, in various parts of Japan, as well as Kasuga Taisha Shrine, the village of Shirakawa, and Jomon era ruins. I compiled photographs, drawings, characteristics of buildings, historical background, as well as maps leading to these buildings, and architectural terminology, and wrote a book entitled, Architectural History of Japan. I wrote that book for Ukrainian university students who are studying architecture, but the content is easy to read for anyone who is interested in architecture.
Since that time, I have been very interested in how and by what means Japanese towns were developed, and I have researched the revitalization and redevelopment of historical towns and villages as a hobby.
Recently, a group of wooden churches that I have been involved with in Ukraine was selected as a UNESCO World Heritage Site. This has led the communities in the small towns and villages where these wooden churches are located to realize that their regions have value, and people are calling to further develop and revitalize their villages. However, they don't really know how to go about doing this, so as someone who was involved in the World Heritage Site registration of this group of wooden churches, I get a lot of people who want to consult with me on this matter.
I therefore applied for this fellowship with the intention of doing detailed research on the redevelopment and revitalization of small towns and villages in Japan, which I had only done as a hobby before.
What methods do you use to conduct research?
For this fellowship, I visited several historical towns in Japan, where I gathered documents related to the revitalization and redevelopment of towns, and interviewed people from the local government and community, as well as people involved in revitalization. Thus far, I have conducted surveys and research on Kanazawa in Ishikawa Prefecture, Hagi in Yamaguchi Prefecture, Onomichi and Tomonoura in Hiroshima Prefecture, Amami in Kagoshima Prefecture, and Omihachiman in Shiga Prefecture.
Sometimes I search for documents in university libraries, but I have often obtained valuable documents from local governments and regional organizations. For example, the city of Omihachiman determines how much in grants to provide, and for what purpose, in order to repair old houses that local people still live in, and you just can't get that kind of document in universities or museums. Omihachiman is also a region where the community took the lead in redeveloping the town, so there are many regional organizations involved in urban development, and some of these organizations have very valuable documents.
In interviews about historical towns, I often speak to people one by one, and have each person introduce me to the next person. For that reason, who I speak to first is very important. I do not simply want information. I ask that person's impressions, what they think about their town, and what they would change if they could change their town. People with a different social status, in different circumstances, and living in different places each have different opinions, so I need to speak to many different people. Asking people's ideas helps me develop my own ideas, so it is very important for me to conduct this kind of exploratory survey.
What really interests me is who leads the revitalization of historical towns. For example, sometimes it is led by the local government or by community, and sometimes it is led by individuals.
The most common scenario is for it to be led by the local government, but the best examples for achieving success are when the local government and the community work on revitalization in tandem. If local businesses do not also participate, then it will be difficult to make progress. For example, it is very important for sake brewers, merchants, confectioners and other members of local industry to participate.
When revitalization is led by individuals, especially in small villages, it is often monks from a Buddhist temple who take the lead. Unrinji Temple (the so called "Cat Temple") in Hagi is one example. If we're talking about larger towns, then one example would be Onomichi. Twenty years ago, a painter named Shunji Sonoyama moved from Tokyo to Onomichi. The many hills in Onomich make it a hard place to live, so there were a lot of empty houses. He has bought empty houses and borrowed them from the local government to create a unique world called "Onomichi Ihatov," which has helped to revitalize the town.
Similarly, a man named Gohei Kawabata has taken the lead in activities to redevelop Hachiman-bori Canal in Omihachiman. He then became the mayor of Omihachiman. This is a very rare case. He became the mayor in 1998, and created a program to register and protect important cultural scenery, with the intent of preserving Hachiman-bori, the lake to the west, and the rivers around it as an area called "Hachiman Suigo." The first place registered with this program was Omihachiman Suigo, but various other regions all across Japan have been registered since then.
Gohei Kawabata was originally an ordinary member of the community. He started with activities to protect Hachiman-bori Canal, which was going to be filled and repurposed in the 1970s because of the pollution and foul smell. He never forgot about Hachiman-bori Canal, even after becoming mayor, so he made a program to protect it, and finally completed what he had always wanted to do. That really deserves respect.
In the field of history, some believe that "individuals cannot change history," but I do not think that is true. Individuals can change history.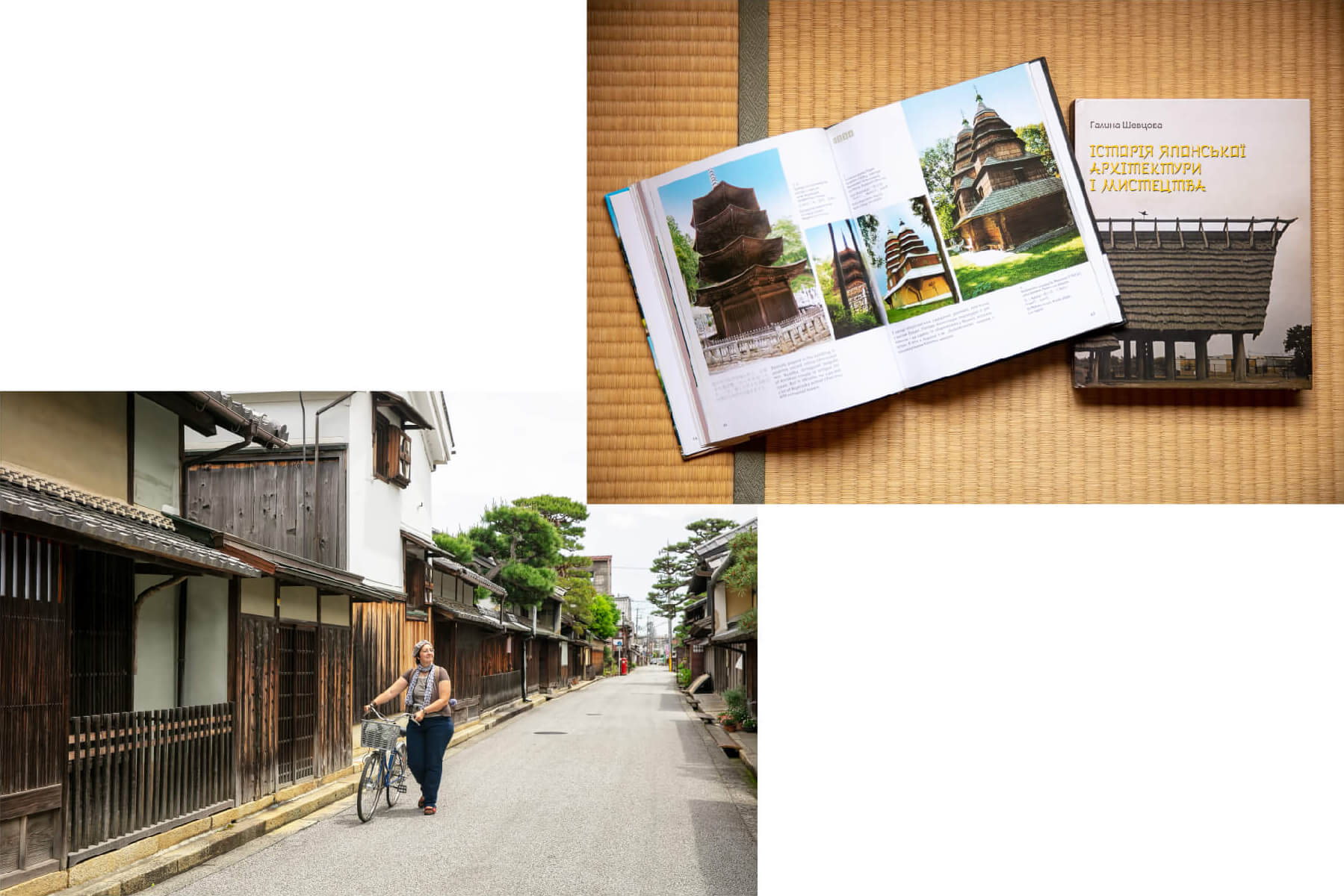 There is no recipe for success. It is important to consider the personality of each town.
What did you get out of your research this time, and what did you realize from your research?
The purpose of my research this time is to find the causes of success or failure in redevelopment of towns, and what I have come to realize so far is that "There is no recipe for success." A strategy that brought success for one town may fail in the next town. First you need to research the personality of a town. This is deeply tied to its history.
For example, a certain town was built around a castle belonging to a samurai family, under the leadership of that samurai family. The samurai family were very skilled leaders who helped the town to flourish, so people in the community have not been very active themselves. Even now urban development is led by the local government. Locals are happy to offer their support if the local government asks for it, but they lack initiative. I noticed this, and when I spoke with people in the community and asked them "Where did you get this idea?" they answer "We were asked to do this by the city, and we're just participating in their initiative."
In contrast, towns that were historically run by commoners have strong initiative in the community. They don't expect the government to lead them, but rather that they must do everything on their own, and that way of thinking continues today.
So I think that first of all you must understand the historical background, and what personality a town has developed because of this. Then you can consider what that town has to offer. That could be architecture, nature, craftsmanship, festivals, and so on. It means thinking about what to base revitalization of a town upon.
The second point is the issue of traffic. What means of transportation are there, and how much traffic is there? For example, this could include how much of an effect the ease of transportation has on the development of a town, such as a Shinkansen station being located nearby.
The third point involves what the town itself is aiming for, including much they want to revitalize and what kind of revitalization they want to do. Just bringing in a lot of tourists will not change life in the community at all. It is no good if the tourists simply hinder the life of the locals. But there is no way to achieve revitalization without tourism, so it is important to consider how much the community wants to revitalize their town.
Also, nothing can be done without young people. In small towns and villages in Japan, young people leave for Kyoto, Tokyo, and Osaka, where the jobs are. When you want to revitalize a town, you have to think about how you will attract young people. Recently, many cases show that it is easier and more effective to attract young people from outside the community, rather than those who have left the area. By calling in painters and artists from outside to revitalize the town, new jobs will appear and local young people will often come back.
It is not only the locals already living there who work hard to revitalize towns, but also people who move in from the outside, women who live there because they got married, or locals who left the area for education or employment but come back again. When people experience life in a different place, they understand the value the small town they grew up in has to offer.
I understand this well myself. I live in a town called Kiev, the capital of Ukraine, but there are things I take for granted because I have always lived there, so I used to think that life would be no fun in a normal town.
But recently, tourists who have visited my town see it in a warm light, and say it is a wonderful place that they wish everyone would visit, so I am surprised at how differently they see it.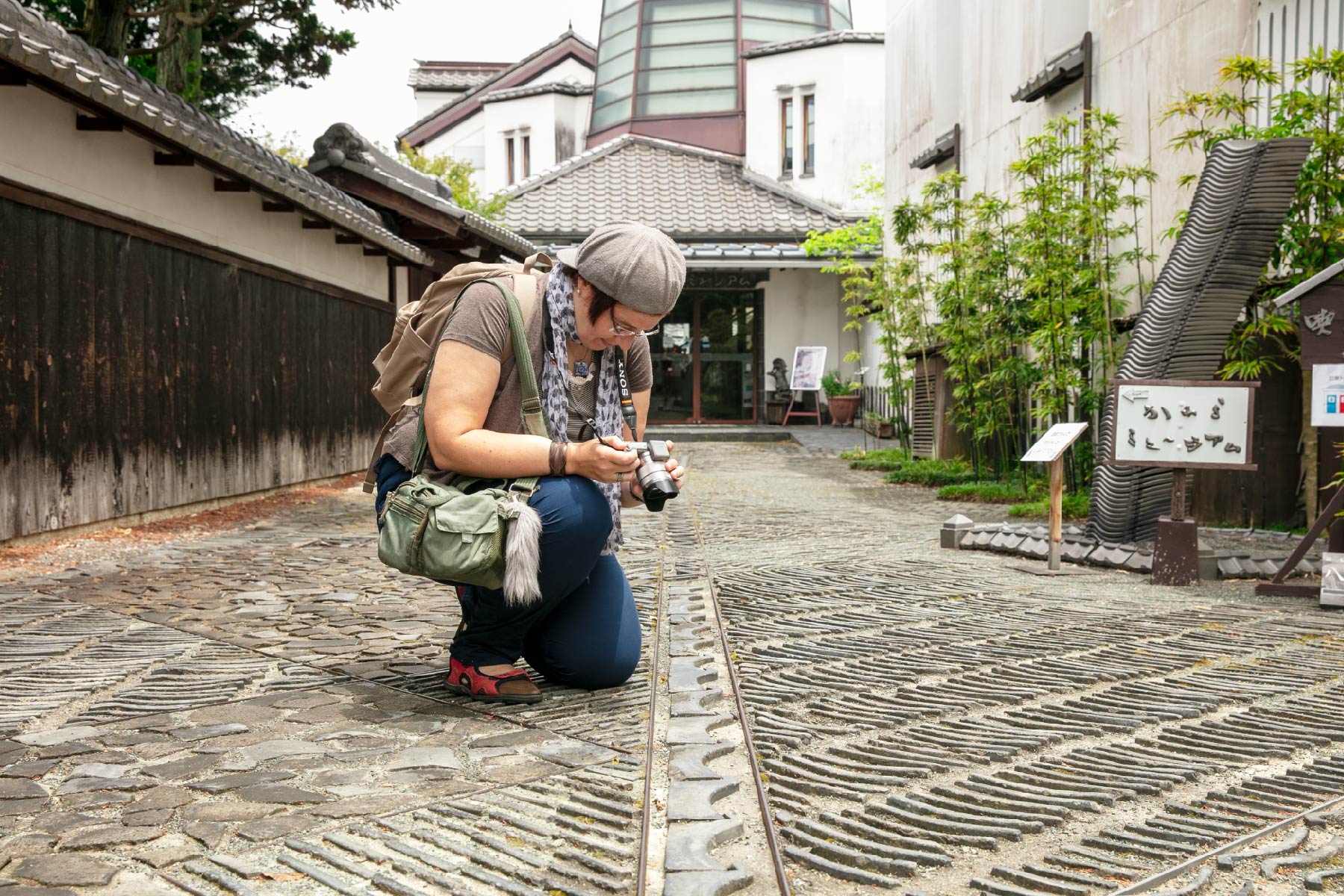 I am happy to have found what I really want to do.
Did you encounter any difficulties in the course of your research?
One difficulty I had was that I needed to visit various towns and villages in Japan during my one year fellowship, so for example I had to decide a week and the time to visit Amami, then conduct my interviews efficiently. Also, I struggled with the names of the people I interviewed. I did my best to get their business cards and write down the pronunciation of names written in difficult Chinese characters, then organized them in my business card holder. Without that, I would have a hard time writing my reports. If he/she does not have his/her business card, I start by asking their name, then make a note of this. But when speaking to older people from the community, it was often difficult to hear or understand what they were saying. It is funny, but it takes a long time. It's rude to ask over and over again, so if I cannot confirm somebody's name, then I take notes using just their family name.
Also, not everything that people say is the truth. Sometimes they simply do not know what they are saying, but whether they are aware of it or not, some people do not tell me the truth. For that reason, I cannot only interview one person. I need to speak to several and compare what they have to say. Simply comparing what a few people have to say can automatically reveal the truth. That is really interesting.
How is your research environment? What are your plans for the future?
I am very satisfied with the research environment at Kyoto University. My apartment is in a place that is very convenient for going to university, and it is right next to Kyoto Station, so I can depart as early as 5:20 in the morning. The trains run on time, so they are very convenient. People at the university have also been very helpful to me, and I am grateful for that. It is strange that when I am doing field work in some town, even people who do not know me very well do everything they can to help me, and I really appreciate it.
I am very happy to be able to do this research. I really love the time that I spend doing research. I enjoy the research I am doing right now, because I can do what I want to most of all, without anything holding me back.
In the future, I plan to make use of my experience with this research to consult with various villages in western Ukraine about redevelopment. Some villages that have wooden churches are registered as UNESCO World Heritage Sites, but some are not. People often ask me how they can revitalize villages that are not recognized by UNESCO. In fact, my research in Japan revealed many different examples of revitalization without recognition from UNESCO. Also, UNESCO has other programs besides World Heritage. For example, Kanazawa is registered as a UNESCO Creative City of Crafts and Folk Art as the "City of Hand Craftsmanship," and Okinoshima is recognized by the UNESCO Global Geoparks Program. These are some of the other ways to gain recognition from UNESCO. I hope to make use of that sort of experience in Japan when I return to Ukraine.
And if I have the chance, although it may be in a different manner, I would like to continue my research in Japan.
(Interview conducted in May 2019)