When a problem occurs between people from different countries, how do you think about and solve the problem?
Please tell us about the research you are doing during your fellowship.
The title of my research project this time is "An Investigative Study on the Problems Faced by the Bangladeshi Residents in Japan – Aiming to Create Case Materials for Bangladeshi Japanese Language Learners." To put it simply, one of my doctorate supervisors, Professor Aya Kondo, published a book titled, "Case Studies in Business Communication," and I wish to make a version of this book for a Bangladeshi audience.
I wrote my doctoral thesis under the guidance of Professor Naoyuki Kitani of the Japan Foundation Japanese-Language Institute (my main supervisor), Professor Natsuho Iwata of the National Graduate Institute for Policy Studies, and Aya Kondo of Reitaku University. Based on the challenges I encountered in my doctoral thesis, I am now undertaking research to more thoroughly investigate the kinds of problems that Bangladeshis encounter when they study abroad or start working in Japan, and plan to use my findings to make case materials.
These case materials are a method for cultivating three skills in learners: problem finding, problem solving, and intercultural adaptation. When Bangladeshis learn Japanese and go to study abroad in Japan, or go to work for Japanese companies abroad or in Japan, they may encounter various problems due to differences in religion, culture, or ways of thinking.
For example, there are cases of Bangladeshis having a different sense of time from Japanese people when they do part-time jobs in Japan. But if you just say, "Japanese people are very strict when it comes to punctuality. You must not be late," that information will go in one ear and out the other. However, if you have a story or anecdote and get people to think from the perspective of the store manager, or think from the perspective of the Bangladeshi students before engaging in discussion, then those people will find their thoughts are influenced and that influence will take root in their behavior. In other words, this type of study using case materials is a method for cultivating the ability to objectively grasp how to understand and solve problems when they arise between Bangladeshis and Japanese people, or between locals and foreigners in any country.
Ultimately, I hope to gather and compile—into a single book—10 different cases with a proper balance between themes, such as full-time or part-time jobs, religion, and the school life of the children of families staying in Japan.
So Bangladeshis can learn about practical Japanese language and the way of thinking behind it, which are necessary for living in Japan or working at Japanese companies?
In fact, when I went back to Bangladesh after completing my doctorate program in 2016, the first Japanese language and culture department in Bangladesh's history was established in the University of Dhaka where I work, and I became the head of that department. Before this bachelor's program was established, it was enough for students just to learn the Japanese language. Now that there is a 4-year bachelor's degree program, it is also necessary for students to understand Japanese society and culture, Japanese ways of thinking, business manners, and other aspects of Japanese culture. This case material is intended for students to gain this kind of cultural knowledge, so I must establish teaching methods to cultivate these skills in students. I therefore aim to create teaching materials that would be of use in a bachelor's degree program.
I also established the Japanese Language Teachers' Association of Bangladesh (JALTAB) in April 2016, and I now serve as the chairman. It has been about half a century since Bangladesh declared independence and introduced Japanese language education, but the two most important achievements for Japanese language education in Bangladesh since then have been the establishment of this Japanese language and culture bachelor's degree program and the establishment of the JALTAB.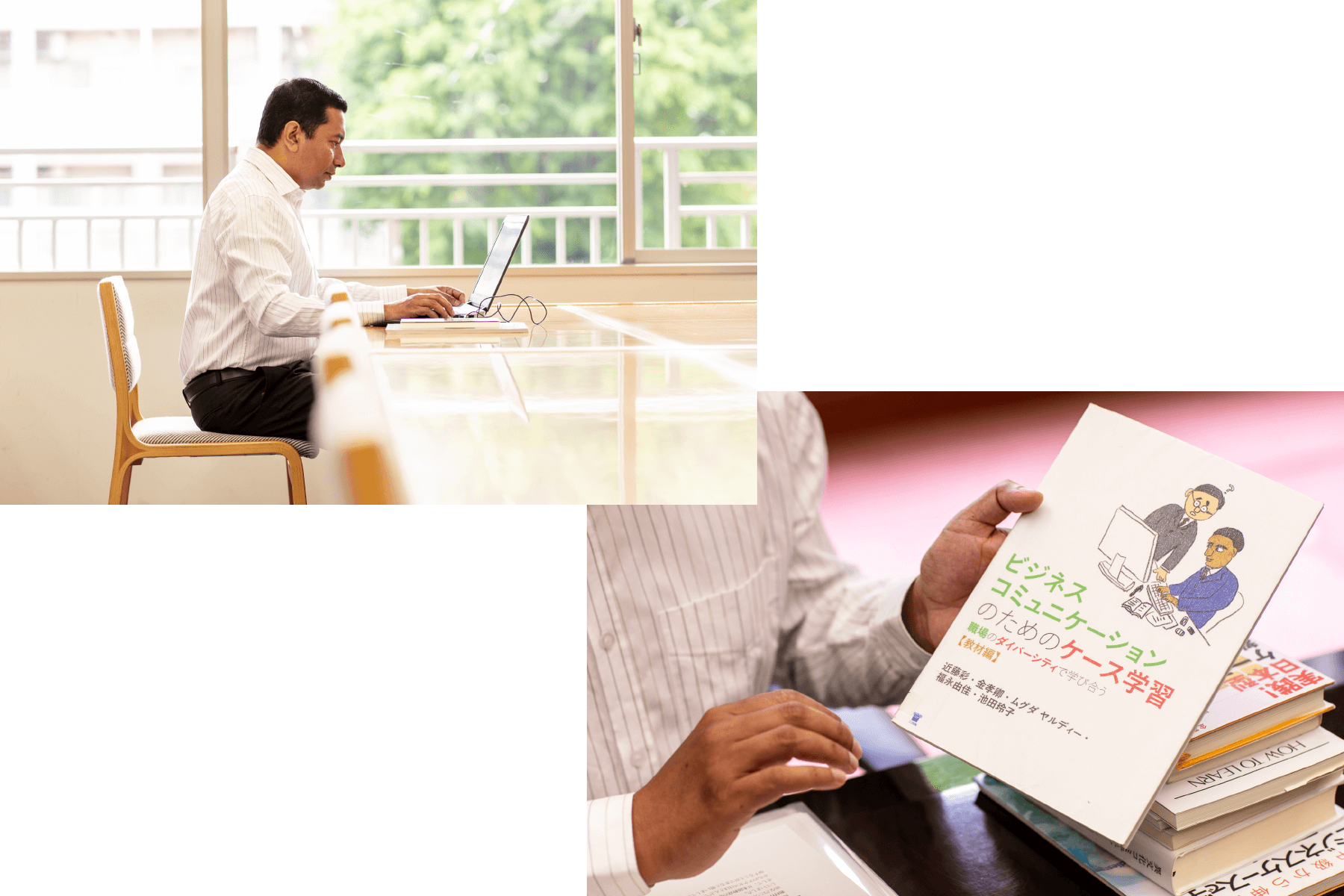 From top of the Japanese language class to becoming a Japanese language teacher
What made you take an interest in the Japanese language and become a Japanese language teacher?
Originally, my major was international relations. In bachelor's degree programs at the University of Dhaka, English is a compulsory subject in the first year, while foreign languages other than English are available as elective subjects from the second year onwards, so I chose Japanese. At the time, I didn't know anything about the Japanese language, but I knew about the country of Japan. A Bangladeshi elementary school textbook had a story about Japan titled "Hiroshima Speaks". On February 10, 1972, just 2 months after the Bangladesh War of Independence ended in December 1971, the Japanese government recognized Bangladesh as a sovereign state.
Furthermore, Japan is an Asian country, not a European country. Having developed so quickly as an Asian country following World War II, Japan was a role model for not only Bangladesh, but also developing countries around the world. So, at the time, I decided that because I was already majoring in international relations, I wanted to study Japanese as my elective foreign language and to earn my master's degree and doctorate degree in international relations at a Japanese university.
I could have just finished a 1-year course in Japanese language at my university, but I paid my own tuition to continue studying Japanese until the 4th year. I studied Japanese language in parallel with my international relations major, but I ended up liking Japanese more (laughs). I was always the top of my class in Japanese, and I even tutored other students who were falling behind.
Professor Hiroko Kasuya, who watched my development in the Japanese language department at the time, asked me "Why don't you become a Japanese language teacher?" This led me to choose my career as a Japanese language teacher.
After that, I studied abroad in Japan for the first time in my 4th year at university, and after going back to Bangladesh, I was hired as a part time Japanese language instructor at the University of Dhaka. I also earned my master's degree and doctorate degree through collaborative programs between the Japan Foundation, the National Graduate Institute for Policy Studies, and the National Institute for Japanese Language and Linguistics. I went back and forth between Japan and Bangladesh every few years, gradually advancing my career from full-time lecturer, to assistant professor, then to associate professor.
Currently, I am the only person in Bangladesh who has both a master's degree and doctorate degree in Japanese language education. There may be only 4 or 5 of us in all of Southeast Asia. The Japan Foundation offers three programs to train teachers, including a master's degree program, a doctorate degree program, and an advanced training program, and I have completed all three of these. As far as I know, I am the only person in the world who has done this.
Please tell us about the research environment for this fellowship and the results of your field work.
For my research environment, I use a graduate student room at the Japan Foundation Urawa Center three times per week. I can use copy machines and the Internet, and there is even a library inside the center, so I really feel blessed with an excellent environment for research. I have come to study abroad at the Urawa Center several times, and have become familiar with the place and people there, so I feel no resistance when visiting. That's another aspect of it that I really like.
In my current field work, there are 2 main tasks I have to work on. The first is interviewing Bangladeshis residing in Japan and the Japanese people who interact with them, and using this as a basis to make case materials. The second is holding trial lessons to implement these materials and confirm whether the cases are appropriate for teaching.
So far, I have held 7 trial lessons, teaching university students and interested individuals. I start by asking for their comments on the case itself. Then I improve the materials based on their feedback, including whether or not someone who has never been to Japan and does not know anything about Japanese society can understand and discuss this case, and the kinds of problems that need to be addressed if they cannot understand it.
Next, I actually hold a ninety-minute trial lesson and have the students write a task sheet. I tell the students to use a black pen to write what they think of at first, then use a red pen to write what they notice after speaking with classmates and what they think of objectively after listening to their partners speak. I also record audio and video of discussions with participants in the trial lessons, then analyze the content carefully afterwards to see how their conversations unfold and what they notice. Then I determine whether the case materials will ultimately be appropriate and consider which case materials to actually use in the future.
This sort of field work was much more difficult than I expected. It is not enough to simply interview participants once. I must conduct several follow-up interviews for each participant. It has been difficult to fit into their schedules, as it takes so much time to visit Tokyo, Chiba, Kanagawa and other places to meet with them. But now that I do work in the field, I get to hear from not only international students and working professionals, but also various problems faced by Bangladeshi families living in Japan.
The most common visa types held by Bangladeshis living in Japan are student and work visas, but recently there are more dependents coming on family visas, such that they now account for 20–30% of the total. Mothers and children who cannot speak Japanese are experiencing serious issues with education, so I felt that it is really necessary to carefully examine their situations. They encounter greater difficulties with culture than the Japanese language itself.
Have you encountered any difficulties living in Japan?
Research has been difficult, but I have not had any difficulties in my daily life.
My wife and children have come with me to Japan, but they were already with me for more than 3 years when I was in Japan to earn my doctorate degree, so they have grown accustomed to life in Japan.
My children speak Japanese well, so they have no difficulties with the language in school. My daughter is in the second year of junior high school, and she has passed Level 2 of the Japanese Language Proficiency Test. My wife has also taken Japanese language teacher training in Japan, so she teaches Japanese language and does ikebana in Bangladesh. Since she is here with me in Japan, she has taken the time to go to a community center where she can learn ikebana from a Japanese instructor and refine her skills.
Because my family is here in Japan, we can travel on the weekends. We have gone to many different places so far, but my favorite memories are from visiting Kagoshima in December 2018. I am somewhat of a fan of Saigo Takamori, and many people have told me that I bear a certain resemblance to him (laughs). Just last year the drama "Saigo Don" aired on television, the host mother of my old host family is from Kagoshima, and her name was also Saigo. I have many ties to Kagoshima.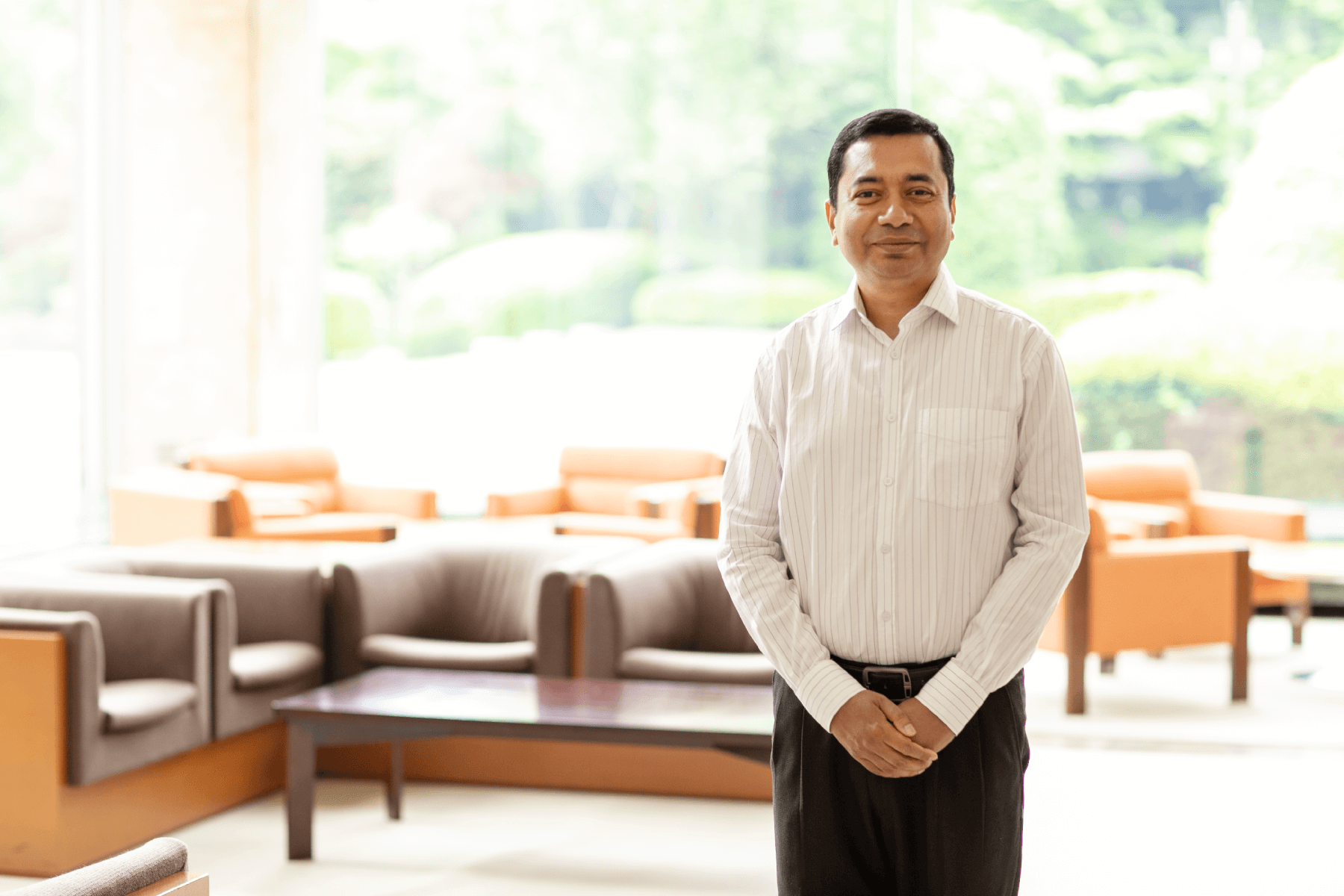 Intercultural communication that is useful for not only Japanese language learners, but also for working adults
Finally, could you please tell us about your hopes for future research.
What I'm looking forward to most is compiling my case materials into a single book. I have written many papers and presented at academic conferences, but have not published a book yet, so this is what I'm most excited about.
Professor Kondo's books have been published as both a textbook and a teacher's manual. I am still not certain if I want to publish my book as a single text or split into two volumes, but I will definitely make a textbook. That is my main goal. In my case, I plan to make an easy Japanese language version to suit the level of Japanese language learners (Levels N2 to N3 of the Japanese Language Proficiency Test).
In Bangladesh there is no such system as "part-time work", so students from Bangladesh do not understand what "part-time work" really means. They do not understand Japanese convenience stores or restaurants either. I intend to make teaching materials so that students can understand the background of what convenience stores are, what kind of jobs they will do there, and what will be difficult for Bangladeshis.
For example, some Bangladeshis tell me "It was time for prayer, but I could not take a break in order to pray," to which I must respond that Japanese part-time jobs have fixed times for taking breaks, and they will not be able to take breaks to engage in prayer. If they do not understand this kind of thing in advance, then they may think that the Japanese are a cruel or strange people. To keep them from having such a negative impression, I must teach them to understand matters from a neutral position. In that sense I think my work can be hard. How much can I really do (laughs)?
One other future prospect is to translate all of my case materials for a Bengali version of the book. I started making these case materials for Bangladeshi students of Japanese language, but this research can be useful for not only students of Japanese and other foreign languages, but also for regular individuals and members of society.
Recently even in Japan, locals come into contact with people who speak different languages and have different cultures, both in the workplace and everyday life. For that reason, attention is turning to case studies with which people in industry, academia, or other fields that can learn from each other, and which go beyond the boundaries of language, religion, and culture. My case materials can also be implemented in lectures and workshops as part of training at Bangladeshi corporations. I intend to translate all of the cases for a Bengali version in addition to the Japanese language teaching materials, so that they can be used in these situations as well.
Really, these case studies are intended for people to study intercultural communication and intercultural understanding rather than simply learn the Japanese language, and I believe that this will form a pillar of my research even after my fellowship is over and I go back to Bangladesh.
(Interview conducted in May 2019)